Disconnecting your home from gas – a guide
Getting your home off gas is a smart way to boost your family's finances. According to the Climate Council's new report, Switch and save: how gas is costing households, swapping out your home's gas supply with electric and renewable energy sources could save your family a whopping $1,900 a year. There are also environmental and health benefits to saying no to household gas – as gas is made of methane, it's a potent contributor to climate change. What's more, gas use in the home has been linked to health respiratory issues including childhood asthma in Australia. 
How quickly are gas prices rising?
If your family is feeling the pinch from Australia's rising cost of living, the escalating cost of household gas bills probably isn't helping. In fact, the wholesale price of gas in Australia almost tripled between 2021 and 2022 – so it's no wonder Aussie families have been feeling the heat when it comes to rising gas bills.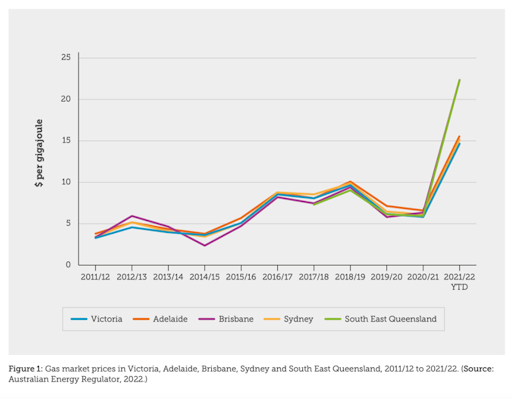 How Australia is powered – a snapshot
If you're considering switching from gas to electric, the cost savings your family could realise over time will depend on how much your home is powered by gas sources. Some Aussie states rely on gas more heavily than others, so for those of us in Victoria and ACT, there is a big opportunity to reap the benefits of making the switch.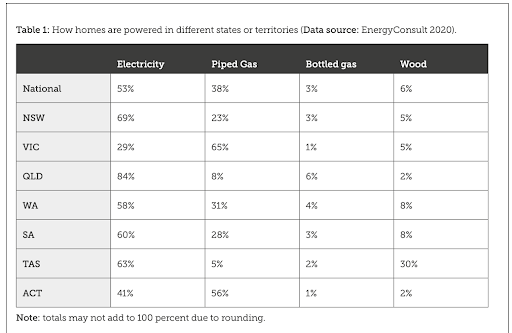 Gas reduction – how much you can save
Climate Council's research found homes that make the switch from gas to fully electric can save a great deal on their annual power bills. According to the Climate Council, here's a snapshot of the savings you could make each year:
Hobart – up to $1,899

Canberra – up to $1,876

Adelaide – up to $1,457

Brisbane – up to $1,424

Melbourne – up to $1,207

Sydney – up to $924

Perth – up to $803
Use this handy, online calculator to estimate your annual energy costs and compare the difference between gas and electricity bills – the calculator is available to people in most Australian states. If you live in Victoria, use this website instead. 
It's worth noting that simply being connected to the gas network (even if you're not using any gas appliances) can still cost you hundreds of dollars each year in daily supply costs. 
Are you eligible for government rebates?
If you live in ACT or Tasmania, you may be able to take advantage of state-wide government schemes in place to help make energy efficient products more affordable for your home. Both schemes provide 0% interest loans to eligible homes. Learn more about the schemes and which sustainable products are available in ACT and Tasmania.
Three steps to take to disconnect your home from gas
Ready to disconnect your home from gas? Here are three steps that will help you get off the gas network.
Make yours an energy efficient home -  

If you're building or renovating your home, consider the role 

insulation, double glazed windows

and shading can play in keeping your home warm and cool throughout the seasons, reducing your reliance on power bills. Turning your thermostat down by just one degree can

reduce your home's energy use by 10%

. You can also keep doors closed to isolate your heating and cooling to the room you're actually using. 

Appliances – 

Are your heating, cooking and hot water system appliances running on gas? Gas appliances are 

generally always more expensive to run

than electric or renewable appliances. Consider making the switch to electric appliances. If you can't afford to change over all of your appliances at once, check which appliance is costing you the most each year. Check the 

energy efficiency rating of your appliances

to start the comparison.
What appliances can you swap?
Heating – If your home uses ducted gas or gas space heating, consider switching to a heat pump, or a reverse cycle aircon / split system. While it is more widely known that split systems are efficient at cooling your home, they're just as effective at heating too. Plus, heat pumps are the most energy-efficient electric heaters on the market – up to four times more efficient than other electric heaters.
Cooking –  Even when your gas stove is turned off, it can leak harmful chemicals including methane into your home. Switching from gas to electric cooking is kinder for your home environment and the planet too. Electric stove tops can also be cheaper to run, more efficient and offer greater thermal control. 
Hot water
– Did you know about a quarter of the energy used in Australian homes is used to heat water? If your hot water system is gas, consider switching to a heat pump. These alternatives are one of the lowest emitters of greenhouse gas emissions and they're one of the cheapest to run too. Or, if you have roof space and live in a sunny climate, a solar hot water system is another smart choice.