If your family's energy bills are burning a hole in your back pocket, here's a clever way you can reduce your bills long term – switch from gas to a fully electric house. New research shows this switch can reap huge annual savings on annual household energy bills in cities including Canberra ($1,876), Adelaide ($1,457), Brisbane ($1,424) and Melbourne ($1,207). 
Although making the jump to a fully electric house may not be in your family's reach just yet, you can start gradually, by swapping any old appliances that need to be replaced with electric sustainable models. 
Plus, if you live in one of the three million Aussie homes sporting rooftop solar panels, your family can save money too. For solar panel owners, switching to electric over gas appliances could save you more than $800 on energy bills each year. Take a look at how your family could save with electricity and what to consider before you begin.
Your savings versus the payback period 
When it comes to energy-efficient electric appliances, you have choices. Make sure you consider the best size, power efficiency and model for your family's needs. When replacing gas appliances with electric water heaters, stove tops or heaters, see if the appliance has a star rating. The energy star rating or water rating label can help you determine how energy efficient your appliance is. 
If you're able to afford to pay more for an energy-efficient appliance, this will cost you less to run in the long term. That said, no matter whether you choose a lower or higher-priced appliance, you'll still save money switching from gas to electric appliances. Take a look at this table to see how much your household can save.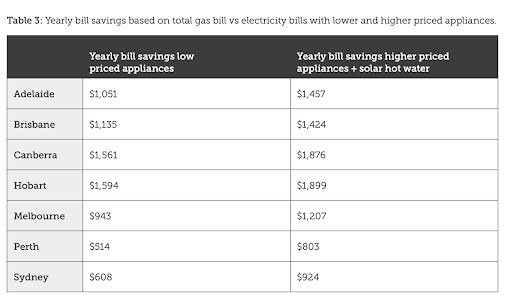 It's also worth noting the payback period of your new appliance. That is, how long it will take for your energy bill savings to match your investment in the appliance. Payback periods can vary. You'll need to take into consideration:
Keen to start purchasing electric appliances for your home? If you live in ACT or Tasmania, take a look at the state-wide government schemes offering homeowners 0% interest loans on sustainable home improvements. You can learn more about the schemes, whether you're eligible, and which sustainable products are available in ACT and Tasmania.  

The rooftop solar advantage 
If you're already reaping the benefits of rooftop solar, you'll know solar panels can help reduce your home's energy costs.Plus, you're doing your part for the planet because converting sunlight into electricity produces no greenhouse gas emissions. 
Electricity generated by your rooftop solar is delivered to your home for you to use, with excess electricity transferred to the national electricity grid. This is why homes with rooftop solar can benefit further from switching from gas to electric appliances – you can make use of the electricity your solar panels are already generating. 

Keen to get on board the rooftop solar train? Installing solar batteries means you can store any excess electricity created from the sun, to use at night time or low-solar days.  
Plus, if you live in an area with reduced mid-year sun, you might consider installing an electric booster.