Did you know your family can save money by making the switch from gas to electricity in your home? According to research by the Climate Council, Aussie homes can save up to $1,900 a year on bills by switching from gas to electric and renewable energy. These findings positively impact a lot of families across the country, as piped gas accounts for 40% of household fuel sources in Australia. The easiest and fastest way for you and your family to take advantage of these savings is by swapping your gas appliances for modern electric appliances, or renewable energy sources. Let's take a look at which appliances you should consider, right now. 
Understanding heat pumps
Heat pump technology is a great option for heating both water and air in your home. Rather than burning fuel, heat pumps use energy from the air, ground or water. Even if the outdoor temperature is as low as -5 degrees, a heat pump can use this air to heat your home comfortably. As heat pumps only use electricity to move energy through the system (eg: a fan), they're extremely energy efficient and cost effective to run. There are many different types of heat pumps – read on to learn more about these. The bottom line is, although heat pumps can be expensive to install, they can outshine their gas counterparts when it comes to energy efficiency and associated bills. 
Save with smart hot water heating
Gas hot water systems are more expensive to run than smart electric or renewable systems. The Climate Council found that people in Brisbane can save up to $733 each year by switching off gas water heating – and this trend is reflected across the country. Swapping out your gas hot water system for a heat pump will save you money in operating costs and reduce greenhouse gas emissions too. Even compared to traditional electric storage heaters, installing a heat pump hot water system could reduce your energy consumption by up to 80%. 
In a similar way to solar hot water systems, heat pumps use heat in the air (which comes from the sun) to heat your hot water. One key difference between the two systems is that heat pumps can be installed on the ground, making them easier to install than solar panels, which are usually placed on the roof. 
If your home has roof space, you should consider installing solar panels to heat your water. Although they can be expensive to install, solar panels heat your water using the sun, so they are virtually free to operate. Keep in mind, if you live in an area with less mid-year sun, you might like to install an electric booster to ensure continuous hot water. 
Turn up the heat with a reverse cycle air conditioner
Widely known for their cooling abilities, reverse cycle air conditioners are also a smart option to heat your home over gas solutions. A reverse cycle air conditioner uses heat pump technology. This conditioner gets its energy efficiency from its ability to transform one unit of electrical energy into up to 6 times as much heating energy. Some models can achieve over 1000% efficiency – which can only mean good things when it comes to reducing your power bill. 
Induction electric stove tops 
If you're considering replacing your gas stove top with electric, take a look at induction electric stove tops. Induction stove tops are twice as energy efficient as gas stove tops. This is because the electromagnetic energy from an induction stove top is transferred directly into your cookware and food, rather than escaping in the air through a naked flame. For this reason, induction stove tops also cook your meal faster. No wonder induction cooking is a firm favourite of celebrity chefs such as Neil Perry, who famously switched his commercial kitchen from gas to induction to embrace more efficient cooking.
Depending on the state you live in, switching from a gas to induction cooktop can save you up to $111 on cooking each energy bill – worth looking into.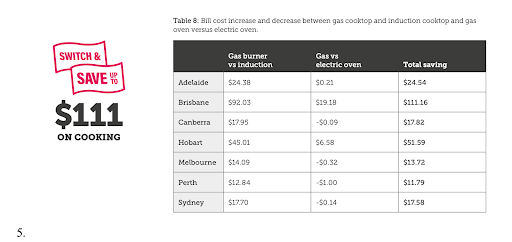 Induction stovetops come in a variety of models and pricing, with some being expensive to buy and install. If you want to switch to induction cooking right away, consider a portable induction hob which you can pick up from major retailers like IKEA or Myer for as little as $70 (at the time of publishing this blog). You can plug these hobs into a normal electrical outlet and get started with energy efficient cooking today.