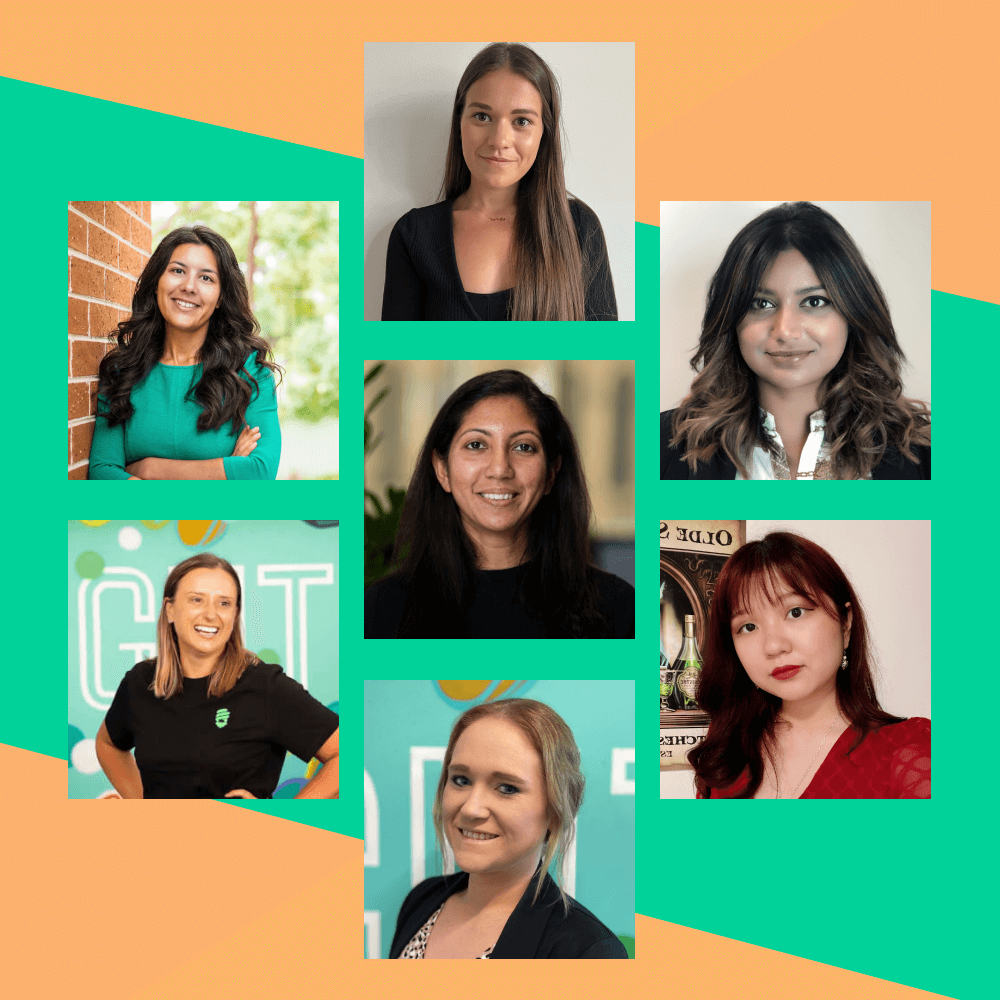 Blog
Celebrating International Women's Day at Brighte
This International Women's Day, we spoke with some of the talented women at Brighte about their careers to date, what lights them up and their advice for others.
As a female-founded and led business, we believe diverse and equitable workplaces are key to a brighter future. Not only does a diverse workplace encourage differing opinions, approaches and perspectives, it ensures our business reflects the community we serve.
While women now make up more than 50 per cent of the Australian workforce and the gender pay gap is narrowing, women are still paid less than men on average and account for less than one in five CEOs or board chairs, according to data from Australia's Workplace Gender Equality Agency.
One of our core values, 'Brighter Together', means we're committed to treating each other with respect and embracing our differences, and we're taking action to help women thrive through initiatives like our gender-neutral paid parental leave policy, Brighte Women in Solar Scholarship and our partnership with Work180.
In the spirit of celebrating women's achievements this International Women's Day, we spoke with seven women at Brighte - from our leadership, operations, engineering, customer support, legal and finance teams - about their unique career paths, what inspires them and their role in our mission to make every home sustainable.
Katherine McConnell, Founder & CEO
What led you to become an entrepreneur?
It was never my intention to become an entrepreneur. I studied commerce at the University of Wollongong and spent 16 years working in investment banking and financial services. My family was an early adopter of solar in 2009 and in 2015, we added batteries to our home. Through that process, I realised that the upfront cost and the friction at the point of sale were major barriers to solar and batteries becoming more mainstream in Australia and I wanted to find a solution. This led me on the path to founding Brighte in 2015. 
Growing up, I saw my parents work hard every day to help others - my mum worked in a nursing home for the elderly and my dad as an electrical trades TAFE teacher - and I was really driven by the idea of helping Australian families access and realise the benefits of a more sustainable home.
What is your role at Brighte and what keeps you motivated day-to-day?
As the CEO, my role is to set the mission and direction for Brighte and to build a high performing team that will drive that mission forward. The renewable energy landscape is constantly shifting and it's important for me to stay connected with the wider industry and be at the forefront of the change.
The movement towards renewable energy and sustainability is gaining huge momentum around the world and I am really excited and motivated by the role we're playing, alongside our partners, in helping Australian families to electrify their homes sooner and do their bit for the planet.
Do you have any advice for other women looking to follow a similar career path?
Founding a business can be a lonely and tiring journey. It's important to surround yourself with people who both push you and support you, and to learn from your mistakes and move forward from any setbacks with confidence. 
Sindhoor Pakkala, Head of Operations, Energy
What led you to a career in operations management?
Many years ago, I interviewed for a junior marketing assistant role. After two rounds and lots of positive feedback, I was certain I had it in the bag, but I was wrong. A couple of weeks later I got a call from the recruiter that there was another role available in their sister company. Although not in my planned career path, it was a foot-in-the-door in what seemed like a fantastic company - a big energy retailer. I was appointed as the 'customer transfers specialist' in the gas and energy division, and before long I was hooked! Learning about Australia's National Energy Market, the end-to-end customer journey, and 'why' has been of great fascination from the get-go. The desire to keep learning, challenging the status quo and working with like-minded peers to drive innovative solutions for customers has led me to my current role.
What is your role at Brighte and what keeps you motivated day-to-day?
In a nutshell, my role at Brighte is to ensure consistent, excellent customer experiences. Brighte's commitment to offering consumers innovative and affordable solutions that will ensure a reduction in carbon emissions is a big personal passion and motivator. Working alongside a diverse and intelligent bunch of high performers is the cherry on the cake.
Do you have any advice for other women looking to follow a similar career path? 
Operations management is traditionally male-dominated, with considerably less representation in the energy field. I've had many "no's" in my career and innumerable moments of self-doubt (I still do!), however the one thing that I often reflect back on is a quote by Clementine Paddleford: "Never grow a wishbone, daughter, where your backbone ought to be." Your career path is yours to own and very seldom a straight line. Nothing beats tenacity, hard work and persistence.
Renee McArdle, Legal Counsel
What led you to a career in law?
I have always had a real interest in law, policy and how it interacts with society and behaviour. I wanted to do something that would help people and make a difference - giving people a voice or helping them to resolve issues. Seeing the way complex problems could be read, interpreted and assessed to come to the best conclusion really drove me to continue on the path to becoming a lawyer.
What is your role at Brighte and what keeps you motivated day-to-day?
My role revolves around providing innovative legal services that help fast track Brighte to make every home sustainable. My day-to-day can range from providing advice on out of the box legal issues, to contract work, helping teams to navigate legal complexities with projects, or helping to resolve disputes. Working for a green fintech company means that no two days are the same – we are always looking to grow, change and innovate. Being able to help people reach their goals really motivates me daily.
Do you have any advice for other women looking to follow a similar career path? 
Law can be a demanding profession. Ensure you set yourself a goal and don't let life or anyone get in the way of that. Be sure to keep learning and take the opportunities as they come, then build on them. It's important to also have confidence in your abilities, be inspired and not be intimidated by those around you.
Nish Warusavitharana, Software Engineering Manager
What led you to become an engineer?
Engineering is an area where you get to explore and be creative, and I enjoy that. As an engineer, you are always thinking of a better way to solve real-life problems and actually make a difference in people's lives. Especially as a software engineer, there are a lot of opportunities out there in different fields where you get to be innovative and work with talented minds.
What is your role at Brighte and what keeps you motivated day-to-day?
As an engineering manager, my main responsibilities involve growing a productive, inclusive and empathetic team of engineers. My time is usually divided between overseeing delivery and collaborating with other teams, providing an environment for continuous development, fostering a culture of honest and open communication, mentoring and coaching my team members, and contributing to the hiring process. 
What keeps me motivated is twofold. It gives me great pleasure to see us tackle problems as a team and achieve goals at work, but it is also rewarding to see the professional and personal growth of the team members I manage.
Do you have any advice for other women looking to follow a similar career path? 
Understanding that you are in charge of your career and working on improving your strengths and abilities is key to a sustainable career. Don't be afraid to try new things out and make learning a habit. Also, take time to reflect and recognise what drains you and what energises you, and don't delay taking steps to make life better.
Eleanor Hashemi, Continuous Improvement Manager 
What led you to a career in operations?
I joined Brighte with four years' project management experience in tech start-ups, specialising in both continuous improvement and customer experience. 
What is your role at Brighte and what keeps you motivated day-to-day?
I am responsible for encouraging and empowering change within the operations team and wider business through strategic thinking and problem-solving. My team act as a pivotal communication bridge between operations and the rest of the business. We uncover insights about our products and the customer experience in order to drive improvement projects.
I enjoy being part of a business that has a positive impact on the world and challenges the status quo. Brighte goes above and beyond to champion diversity, equality and inclusivity and believes that building an inclusive workplace is everyone's responsibility. Because of this, we are encouraged to become more aware and more inclusive colleagues.
Do you have any advice for other women looking to follow a similar career path? 
Be your own cheerleader. This isn't about bragging or boasting about ourselves, but having the confidence in our ability to succeed.
Candice Tay, Customer Support Representative
What led you to a career in customer support?
In previous work experience, I found myself enjoying day-to-day interactions with other people and solving issues, which is was what led me to my current role. 
What is your role at Brighte and what keeps you motivated day-to-day?
My day-to-day mainly consists of taking inbound calls and responding to email and live chat enquiries from customers and vendors. My role requires me to think on my feet - as a front-facing role, I need to provide some sort of resolution very quickly. The satisfaction I get from resolving issues for customers keeps me motivated and having fun team members makes every workday enjoyable. Customer support is a good stepping stone and is most suited to those who enjoy interacting with others. 
Do you have any advice for other women looking to follow a similar career path? 
My advice for others looking to pursue this type of role is to have an open mind. Operation processes are updated regularly and Brighte is expanding quite quickly - there are always new processes and new information to learn.
Iva Charlopova, Senior Finance Manager
What led you to a career in finance?
I started my career in professional services and followed a chartered accounting path. What initially drew me to a career in accounting is the diversity of career path options available (they say accounting is the language of business, after all!). As an avid traveller, I was also drawn to the opportunity to move internationally with my career. I've been very fortunate that so far, my career has taken me from Canada to Bermuda and Australia.
What is your role at Brighte and what keeps you motivated day-to-day?
My role is focused on finance projects, which can include anything from new system implementations, process automation, and operationalising new opportunities from a finance perspective. I get to collaborate with teams across the business, doing things I've never done before. It sounds cliché, but no two days are the same!
The two main things that keep me motivated are Brighte's mission to make every home sustainable - we're at the forefront of helping to shape Australia's energy future and this is an incredibly powerful and impactful mission - and the super talented and smart people I get to work with. One of Katherine's favourite quotes is "a dream without a team is just a dream", and the culture and collaboration at Brighte is hands-down one of the highlights of working here.
Do you have any advice for other women looking to follow a similar career path? 
Some advice I received from a mentor was to find people you want to connect with and don't hesitate to reach out due to fear of rejection. You are absolutely entitled to people's time and insight and by not reaching out, you are robbing both yourself and the other person of an opportunity. 
To find out more about International Women's Day and this year's theme #BreakTheBias, visit internationalwomensday.com.