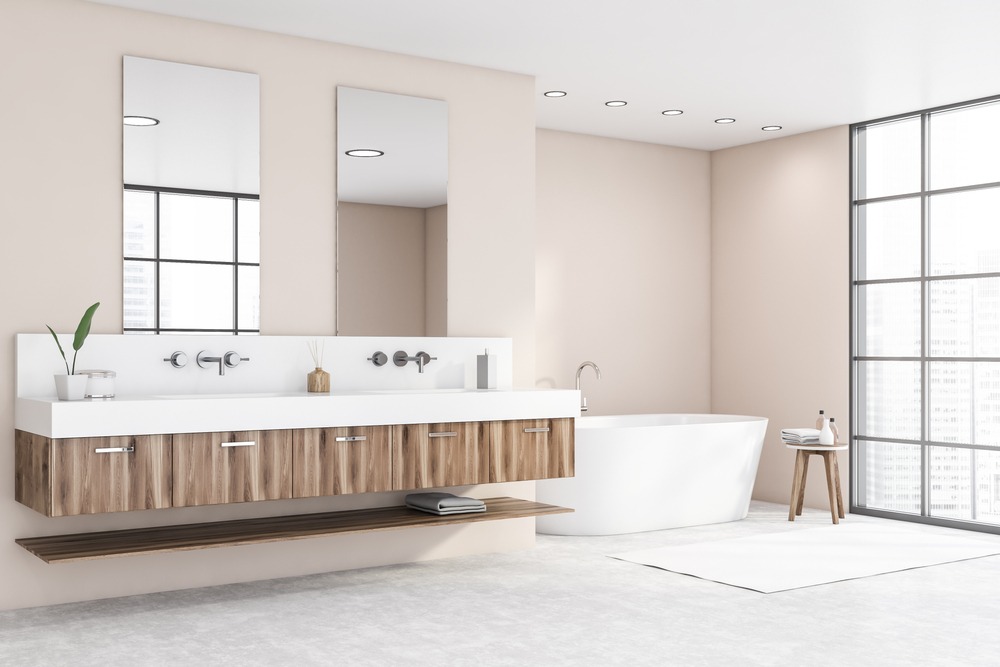 Blog
Top 5 home improvement projects in 2021
Looking for inspiration on what projects Aussie homeowners are completing this year? We have you covered.
By Carly Nichols
11 February 2021
After spending a year at home with no holidays aboard and limited interstate travel, it's no surprise that a recent survey* found that 68% of Aussies are looking to splash a little extra on their homes.
The Top 5 projects for 2021
From a splash of paint in the bedroom to a new bathroom and kitchen, here are the 5 home improvement projects on Aussie's to do list.
Landscaping:  The most desired home improvement project (26%), reflecting Australians' love of the outdoors, and our desire to enjoy our own backyard. Decking, pergola's, artificial grass, paving and more can help bring your backyard to life for your family to enjoy.


Painting:  Painting is a great way to freshen up the look and feel of your home, with 17% planning on pulling out the paint brush this year. A simple change of white or a neutral colour can help the home feel fresh, and provide more options to include pops of colour in your interior design elements.


Kitchen improvement: Often referred to as the heart of the home, it's no surprise that 15% of Aussies are looking to renovate. Renovation reasons include improving functionality and adding multi-use features to your home. For instance adding in storage or chairs to an island bench, creates multiple purposes and improves functionality around the kitchen to living room area.


Bathroom improvement:  Relaxing in a modern bathroom always seems to work better than looking at tile patterns and colours that don't match. Investing in a bathroom renovation can assist with energy savings by implementing water efficient shower heads, improving functionality by redesigning where showers/bathtubs are located and Improving re-sale opportunities, with 14% of ready to redo their bathroom.


Flooring: Ever heard of 'new carpet feel?' Yep! we have too. Replacing old and outdated carpet or adding in floorboards to your home is a great way to improve the look and feel of your home and also make sure it is well insulated, 6% agree! Older insulation under flooring can hold dust and deteriorates over time.

Benefits of home improvements
Modernise and update: with new developments in your area, your older home can quickly fall behind the latest trends. However, completing home improvements can keep your home modern, with a classic and fresh look. A simple paint refresh, changing handles on doors, and swapping out pillows and throws can refresh your interior style.


Increase living space and functionality: After spending more time than ever at home in 2020, it's easy to understand why we want to make make use of our living spaces. Home improvements like outdoor decking and pergola's can create additional living areas. Other larger changes like kitchen renovations can increase functionality.


Energy efficiency: More time spent at home has trickled down in our energy bills, home improvement projects can help assist in creating a more energy efficient home. For instance swapping your air-conditioning unit for a more energy efficient product, and replacing doors and windows to remove gaps and improve insulation is another example of home improvements adding value.


Resale value: If you realised lately that you need more space, home improvement projects can add value to your home for prospective buyers to fall in-love. Increasing resale value may come in many ways, including new blinds, carpet and paint to provide a fresh look in your home. 
Brighte partners are ready to help assist you in completing your next home improvement! If you are looking for a renovation loan or payment plan. Brighte provides finance up to $45,000. Search for local partners in your area and request a quote today!
Batteries
Solar
Heating/ Cooling
Flooring
Blinds and shutters
Decking
and more!
Disclaimers: *One thousand Australian homeowners were surveyed, with equal gender representation and cohorts spread across capital cities and regional locations.
The information provided in this article is general in nature and does not constitute advice. Please consider your own personal circumstances prior to making any decisions.