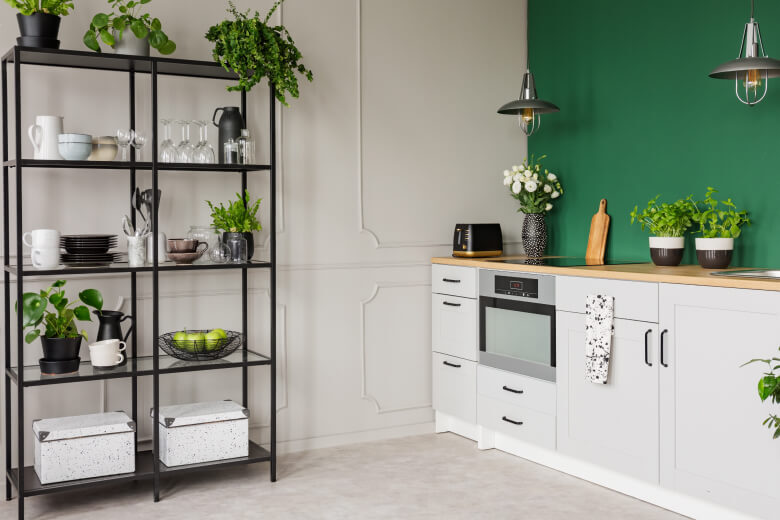 Blog
Top 3 tips on planning a kitchen
The kitchen is the heart of the home, so when it comes to designing your dream kitchen it's easy to let your imagination run wild. We've pulled together 3 tips to help you plan your ultimate kitchen.
By Carly Nichols
03 May 2021
The kitchen is the heart of the home, so when it comes to designing your dream kitchen it's easy to let your imagination run wild. Now, we don't want to be the fun police, but (and there was always going to be a but), it's time to step away from the Pinterest board, close those browser tabs, and do some prep work before we cook up your dream kitchen.
Tip 1: Map out your electrical and plumbing connections
The first step is to check which ingredients you already have, and by that, we mean noting down where your electrical and plumbing connections are. This will give you a good sense of how you can rearrange things and whether you'll need to hire a sparky or a plumber so that you can shuffle your appliances around.
Bonus tip: Add a few hidden power points in your cupboards to keep appliances tucked neatly away and fully charged.
Working with natural light
Plan your kitchen space and lighting requirements around your natural light, you'll thank us in the long run! Think about how to make the most of the sunlight during the day so that your kitchen feels bright and fresh. For the evenings, you may want to include functional lighting to help when you're cooking, as well as softer lighting to set a more relaxing mood.
Tip 2: Outline your budget
This is where Brighte comes in, we offer 0% Interest Payment Plan and a Personal Loan product that allows you to repay over time whilst enjoying your new kitchen.
Don't miss out on the wow factor. Our advice is to start with your current budget and then compare it against our repayment calculator to see how much you can borrow and repay over time. 
Tip 3: Dream design with functionality
Now let's talk about everything else - including the kitchen sink!
Golden Triangle: the layout of your kitchen sink, to cooktop and fridge. The golden rule is to have no more than three meters between these points.

Preparation and clean up: it makes sense to have your bins close by to where you are preparing your meals, and also the sink for ease of washing up.

Energy efficient appliances: now is a great time to look at your appliances, and if you're upgrading then review the energy efficiency of each product.

Space is sacred, but so is storage: while creating space is extremely important to the functionality of your kitchen, so is storage. Open cupboards can create the feeling of space and also provide ample room for your kitchen essentials. Use your plates, bowls and glasses.