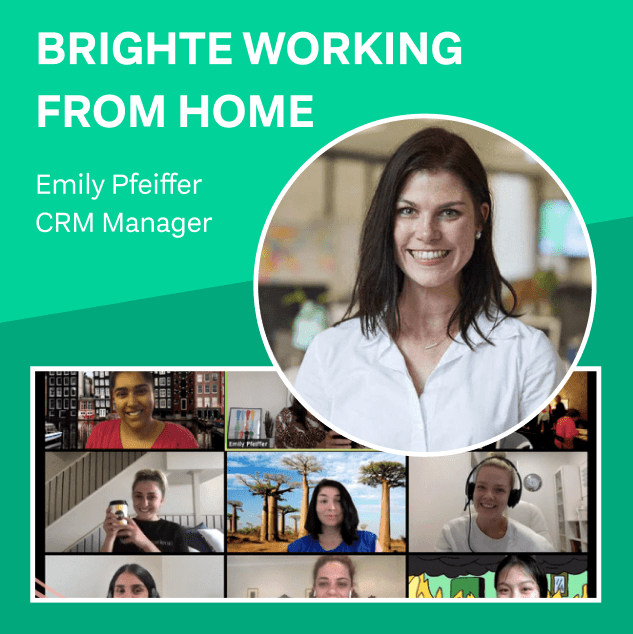 Blog
Working from home with Emily
Optimise your productivity and happiness while working from home.
By Emily Pfeiffer
03 August 2021
With virtual workplaces becoming a new reality, it's important that you take positive steps to ensure that any of the physical and mental challenges working from home can present are minimised, and you can optimise your productivity and happiness at home.
Here is my day working from home.
6:30 AM- 8:00 AM: Wake up and get outside! With no commute time, I can use the morning for an energising walk or run (depending on how energetic I'm feeling). I also take the time to make a healthy breakfast and read the morning news.
8:00 AM-10:00 AM: Emails and team check-ins. We use some great technology at Brighte including Slack and Zoom that's helping us collaborate and communicate virtually with one another.
10:00 AM: Coffee time! I'm able to support my local coffee shop and get my daily dose of caffeine.
10:30 AM -1:00 PM: I've set up a designated space on my dining table with an additional monitor and a good chair, so I'm able to work away comfortably.
1:00 PM-2:00 PM: Lunch! I'm trying to stick to my routine and take a lunch break. The laptop is closed! I also take a little walk around the block and grab my mail on my way back. I have meal prepped my lunch for the week, I sit down to enjoy my lunch and call my family and friends to see how they are doing as many of them are also working from home.
2:00 PM-5:00 PM: After lunch, I settle in for the afternoon session which is usually filled with lots of phone calls. I'm prioritising making phone calls over email or messenger so that my workday still has a social element and can have a chat with my colleagues. I usually break around 3:30 pm, as I need a snack! I also water my plants or empty the dishwasher as a way of moving around the house. If I'm feeling restless I do a 7-minute workout. There's some great at-home workout apps or you can also find lots on YouTube.
5:00 PM-10:00 PM: I read somewhere once that it's important to follow the same structure when you work from home as you would if you went to work, so I'm making sure my work from home day has a defined end! I log off and I pack away my work station so my work doesn't flow into dinner! Depending on how I feel I might go for a walk or do an at-home workout. I'm loving having extra time at home and am trying to learn new cooking skills by making yummy dinners. My friends and I downloaded the House Party App so we can be together when we're not together! It's great to share takeaway with my friends over the app or have a cheeky glass of wine.
10:00 PM: It's bedtime! I've been using the Headspace App for a while now for guided meditations. Working from home or not its a great tool to keep mentally healthy and I find it really helps me to switch off at the end of the day!
The information provided in this article is general in nature and does not constitute advice. Please consider your own personal circumstances prior to making any decisions