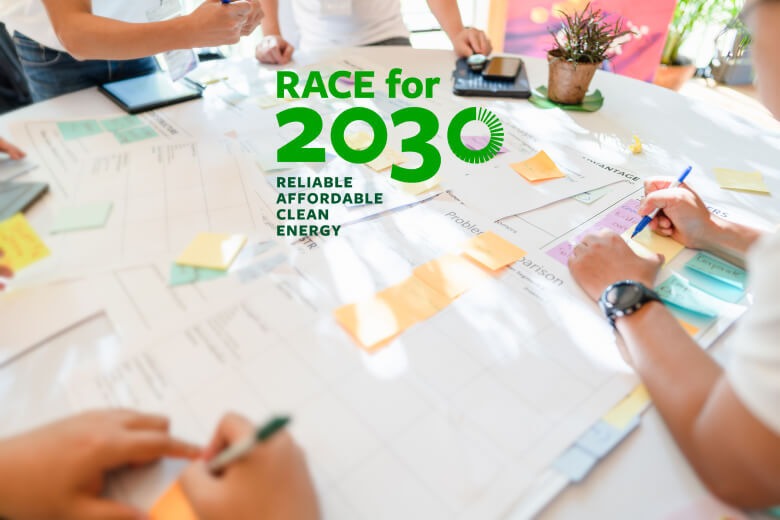 Blog
Why we're doubling down on research at Brighte: RACE for 2030
Brighte is excited to announce a partnership with the Renewable Affordable Clean Energy (RACE) for 2030, an industry-led Collaborative Research Centre (CRC) tasked with leading research and innovation to deliver clean, reliable and affordable energy for all Australians.
By Jeroen Boersma
25 October 2021
At Brighte, our mission is to make every home sustainable. We can't achieve our mission without a deep understanding of technological and economic trends as well as consumer needs and human behaviour. Useful and practical innovation happens at the intersection of the knowledge in these areas - which makes research a key area for us to invest in.
Our teams across Brighte constantly explore problem spaces - building prototypes and designing experiments to find products, services and features that are at the intersection between technological opportunity and consumer needs.
When it comes to research, strategic partnerships are foundational to our ability to learn and iterate quickly. Collaboration with other organisations and teams gives us a constant flow of ideas and discoveries that inspires change and practical solutions.
RACE for 2030
And it is with this in mind, we are super excited to announce our partnership with RACE for 2030: an industry-led collaborative research centre with the objective to accelerate the transition to reliable, affordable, clean energy before 2030.
The RACE for 2030 CRC's aims to reduce emissions by up to 20 million tonnes, lower energy costs by up to 25 per cent and add an $8 billion economic benefit by 2034.
Together with the RACE for 2030, we are closely aligned in driving the system change needed to deliver long-term benefits so all Aussies can access affordable and clean energy, and reduce emissions generated from our homes.
RACE for 2030 has over 70 partners which include technology companies, governments, universities and Australia's leading energy researchers; we are proud to be the very first financier to join the group.
Collectively, the CRC has generated $350 million in investment from industry and researchers, and has received $68.5 million in Government support. We are excited to assist in RACE for 2030's vision where "energy research improves quality of life and boosts energy productivity".
To learn more about the RACE for 2030 initiative make sure you visit www.racefor2030.com.au.
The information provided in this article is general in nature and does not constitute advice. Please consider your own personal circumstances prior to making any decisions.