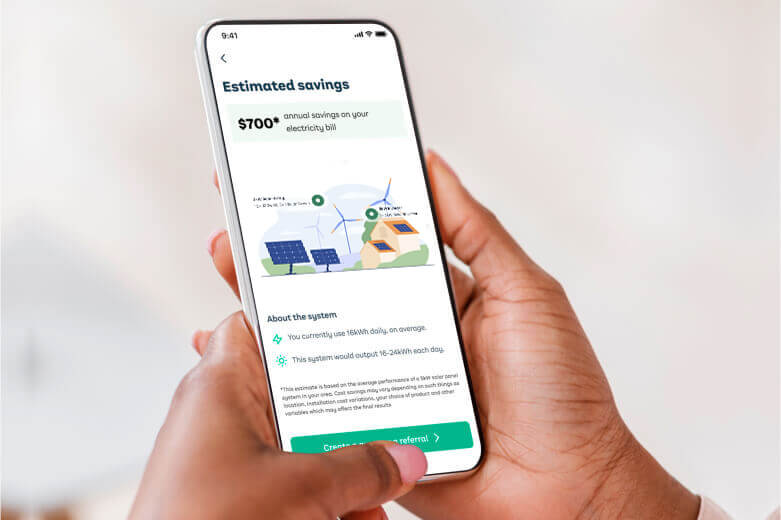 Blog
Estimate customer solar savings on the go with our new in-app calculator
Our new solar savings calculator can help your customers understand their potential savings from solar, so they can move forward with confidence.
The Brighte Vendor App now includes a solar savings calculator so you can easily show your customers how much they could save on their energy bills by installing solar.
Along with wanting to protect the environment, one of the main reasons* Australians consider installing rooftop solar is to save money, but calculating the potential savings from solar can be tricky. That's where our calculator comes in.
Using just their street address and the total paid amount from their last electricity bill, our new solar savings calculator can show homeowners how much they can save with solar. These savings can help offset their fortnightly repayments to Brighte - just another reason for them to act today.
How to use the calculator
Open your Brighte Vendor App

Click on "Solar savings calculator"

Enter your customer's street address and the total bill amount from a recent electricity bill

Read out the on-screen disclaimer to your customer and click "Calculate savings" to view your customer's estimated savings

From here, you can choose to create a quote or referral, or begin a customer application
Don't have the Brighte Vendor app yet?
Download our app below and log in using your Brighte accredited account details.
If you have any questions about this feature, please contact your sales representative or call us on 1300 274 448.
*Source: Energy Consumers Australia - Oct'21 Behaviour Survey
This solar savings calculator is indicative only and is not a forecast, prediction or professional advice. Calculations are meant as estimates only and intended to be a general guide on the potential savings and benefits of installing and using solar panels and batteries. These estimates are based on assumptions and do not include potential savings from STC's or government rebates, and should not be solely relied on for the purposes of making a decision in relation to a solar product. Read our full solar calculator disclaimer.