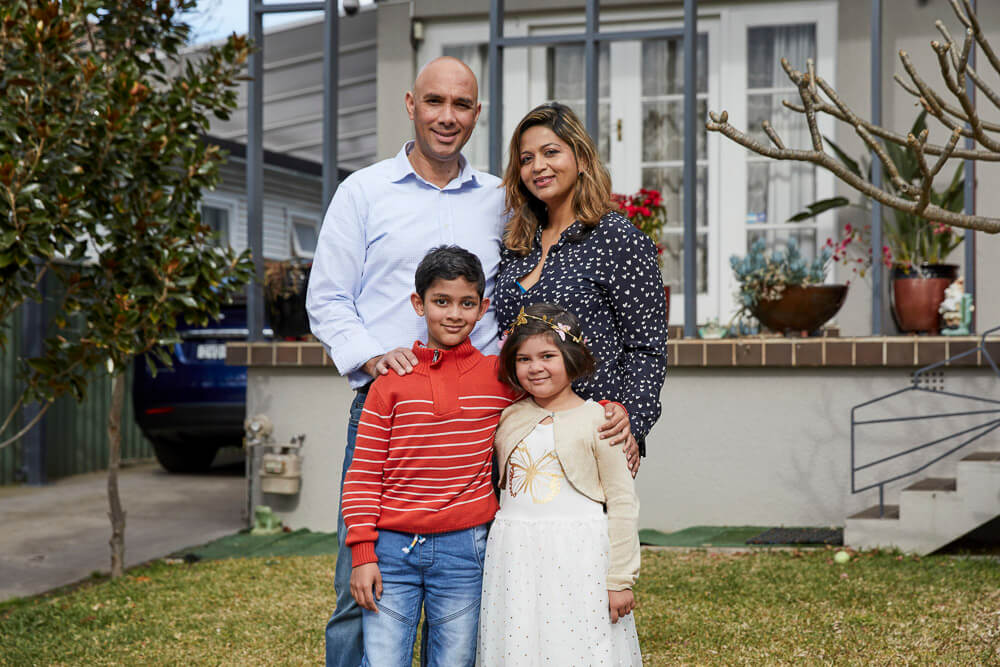 Blog
Kevin's journey to going green
Kevin and Renuka Koelmeyer want to be green role models for their children and those around them.
By Carly Nichols
15 March 2021
"Our solar and battery package powers the family home, almost free from the grid, day and night." Kevin and Renuka Koelmeyer want to be green role models for their children and those around them.
Kevin and his wife Renuka live with their two young children, Kayden and Adelle, and their father-in-law. As a family, they're committed to becoming more environmentally friendly and self-sufficient. Early adopters of the plastic bag free movement, they have also transitioned to a vegetarian diet and are about to collect their first electric car. Their move in 2017 to power their home with a solar panel and battery combination was another step on their journey to protect.
As Kevin explains: "When it comes to doing our bit for the planet we choose not to listen to those who say "others can fix it" or "my footprint is small enough". Rather we will be green role models for our kids and neighbours by showing that we can all make those small changes that the world needs more of."
The Koelmeyer family knew that complementing their solar panels with a battery would be a smart move. Their total clean energy package included 18 SunPower SPR-E20-327-MC4 (327W) panels, a Fronius Primo 5.0-1-AUS Inverter and a Tesla Power Wall 2 (13.5 Kwh), plus a Gateway as a backup option.
Their move has taken them close to 24/7 independence from the grid: "We power the house with solar through the day and the battery at night. Most of our power usage is after dark so it's a nice feeling to know you are storing power in the battery from the sun and then using it after the sun sets. There have been months where we haven't taken any power at all from the grid."
Kevin views his monthly payment for his panels as smartly diverting funds that would've otherwise gone to an energy provider. That's because no longer does the family antagonise over electricity bills as high as $800 per quarter. Rather, they're excited to show others bills of less than $10 per month and to be free from paying 'dead money' to an electricity company.
Their energy savings are being used wisely. First up, they're enhancing their children's education through activities like taekwondo and swimming lessons. Secondly, the extra savings are enabling family holidays to become more adventurous.
Kevin draws on his experience to offer advice to others: "When it comes to solar and battery power, don't think of the concept of breaking even or 'return on investment'. You don't think like this about a new car or the latest kitchen appliances so why should we for solar energy? Instead, it's about taking action that protects the planet and that is lighter on your wallet in the long term. It's about getting on board with the future way of doing things and living an energy-neutral life. And importantly, it's about setting an example for others to follow."
The information provided in this article is general in nature and does not constitute advice. Please consider your own personal circumstances prior to making any decisions