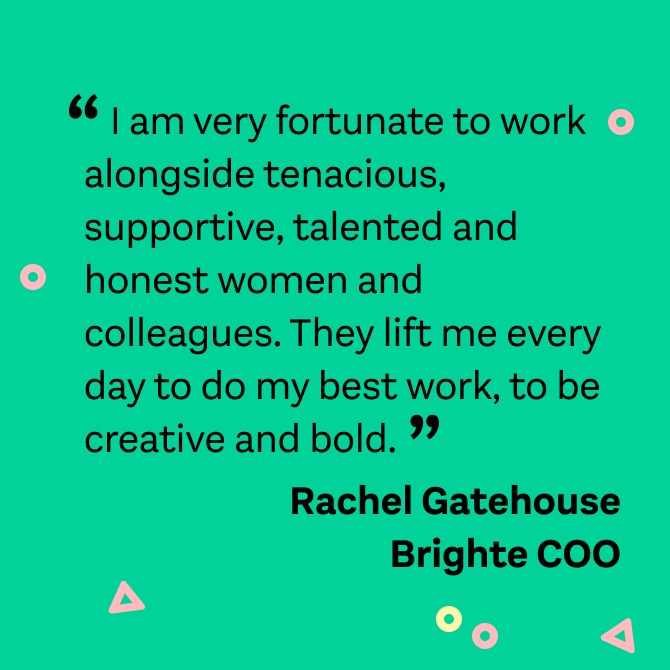 Blog
International Women's Day
To celebrate International Women's Day, we asked some of our senior leadership team (which is 67% women!) to reflect on how they have adapted in the last twelve months, both personally and professionally.
By Carly Nichols
08 March 2021
Katherine McConnell - CEO & Founder Brighte
What is your favourite quote?
"You can't connect the dots looking forward; you can only connect them looking backwards. So you have to trust that the dots will somehow connect in your future. You have to trust in something — your gut, destiny, life, karma, whatever." Steve Jobs
How have you adapted personally and professionally over the last 12 months?
I have learned to roll 'with the punches'. To appreciate the moment I have and not look in anticipation to the future for happiness.
How have you felt Brighte as a company has adapted?
We bounced back after each setback and just kept turning up and being amazing. We proved we are a resilient and durable business that can excel in good times and withstand tough times.
How have you felt Brighte SLT team and staff have adapted?
Unbelievably well. I have learnt so much from the team about resilience and teamwork. I could not have imagined a better team to go through a global pandemic with.
Anna El Ali - Head of People & Culture
What is your favourite quote?
"Success is not final; failure is not fatal: It is the courage to continue that counts." Winston S. Churchill
How have you adapted personally and professionally over the last 12 months?
The last 12 months have forced us to become more adaptable to change and to be resilient when facing unprecedented events and uncertainty. During these uncertain times, I have personally and professionally grown through changing my mindset and thought process. Whilst change can be scary and intimidating, it is an opportunity to learn, improve and grow.

I have also forced myself to take more risks, little progress is made without risk and taking risks makes us far more adaptable, particularly in the environment we have been living in.

As a People & Culture leader, I have the privilege of working alongside amazingly talented people and it really is a two-way coaching opportunity every day. Encouraging others to be more open-minded and to foster a culture of continuous learning and curiosity to better adapt to change and grow from it each day.
Rachel Gatehouse - Chief Operations Officer
What is your favourite quote?
"The heart is the chief feature of a functioning mind" Frank Lloyd Wright
How have you adapted personally and professionally over the last 12 months?
It's true what they say about the importance of organisational culture. It can make or break customer relationships. It can make or break long term commercial performance. It can make or break you.
I am very fortunate to work alongside tenacious, supportive, talented and honest women and colleagues. They lift me every day to do my best work, to be creative and bold.
Inevitably this flows through to your personal self and your most coveted relationships. There is no separation of work and home. The last 12 months have taught us that. Surround yourself with the best people to be your best self.
Malini Sietaram - Chief Revenue & Marketing Officer
What is your favourite quote?
"Everything will be okay in the end, if it's not okay it's not the end" - John Lennon
How have you adapted personally and professionally over the last 12 months?
This year I've learned there are many hills that I'm not going to die on. Sometimes you need to ask, what will happen if I don't do this, what's the worst that will happen? Always measuring yourself by the highest standards, isn't always worth it. My Asian tiger mom would disagree with this though :)

On a personal level I thoroughly enjoyed re-organising my pantry, making my house a home and shopping locally. I made a conscious effort to support small local businesses and I loved the quality, creativity, personal attention and service level. Highly recommend everyone to try out your local markets and small web shops, you won't be disappointed.

'Be Human' is one of our core values and I'm very proud with how we lead with empathy. You don't need to be high strung to be successful. Having an executive team with working moms meant that we created a culture where we can enable parents to be their best both professionally and personally.
The information provided in this article is general in nature and does not constitute advice. Please consider your own personal circumstances prior to making any decisions.