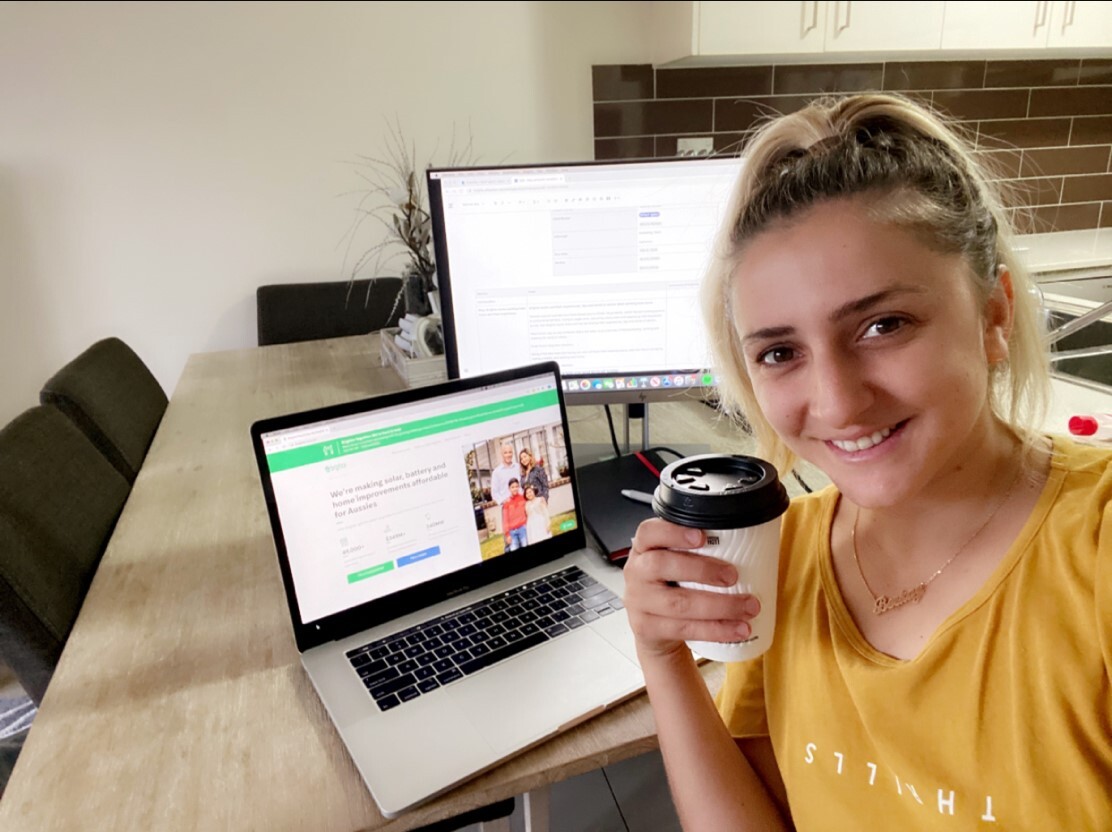 Blog
4 tips to working from home with a baby
Routine is key. Here's what's helping me during isolation and working from home
By Nazli Igdeci
04 April 2020
My 4 tips for working from home with an 8-month-old
Recently coming back from maternity leave, the last thing that was on my mind was working from home full time with my baby crawling around everywhere. It's already a shock to the system just coming back after such a long time – do I still have it? Am I doing enough? So many thoughts cross your mind as a first-time mum returning back to work. I knew nothing was going to be easy…then came working from home full time – and boy was I in for a rude shock.
I'm one of the fortunate mums out there that can rely on my support network to help out with taking care of my son. The days I'm at work – my son is with my mum or my mother-in-law. With self-isolation, however, my son is at home, with me, while I'm trying to work, keep up with my housework, find some sort of routine and potentially cook a meal for dinner. 
This is week five of isolation. So far, my son's been tagging along to every one of my ZOOM calls. He's either laughing, crying or crawling all over the place. My new support network is my team! What's helped me throughout these uncertain times is knowing that it's going to be okay – it's okay for your little one to be in the background doing their own thing. It's okay to pick them up and give them a cuddle when you're on a call and it's okay to just take 5 minutes to sit and have a coffee.
Routine is key. Here's what's helping me during isolation and working from home
Wake up, get dressed and do your hair!
I'm attempting to treat isolation as any other workday (at least for the basics). I still get up every morning change my clothes, brush my hair and instead of getting coffee on the go, I simply go downstairs, put the kettle on and make myself a cup of coffee. By this stage, I still have about 30 minutes up my sleeve to myself before bubba wakes up. I use this time to set up my workstation, prepare my to-do list and read the news whilst sipping on my coffee – it's the small things. 
Meeting preps
I try to plan my meetings around feeding times. I know that when my son has a full stomach, he's a lot less needy (and a lot less loud too). Don't forget that this is a learning curve for everyone in your team too. I've also realised that as soon as my son hears the ZOOM call begin, he wants to say hello to everyone and show face. So instead of fighting him and trying to keep him off the call, I just pick him up, he gives a big wave and smile – and we're done. Everyone on the call is smiling, and my little one is satisfied to now go play on his own. It's a win-win for all.
 Taking an actual break
Whether it's logging off for 30 minutes and having (another) cup of coffee, or going for a walk around the block, I try to make sure I get some time to clear my mind. You'll be surprised what a short walk can do for the mind. I find that it's also good for my son as well. Although he loves exploring the house and trying to break everything, he too, gets frustrated. If you want to be productive, you need to take care of your mind, body and soul.  
Transparency is key
Every day is different in my household. With a toddler, I have to be prepared for routine changes (as they seem to be changing with the wind lately). From teething to sleep regression (yes, it's a thing!), every day is colourful. I am as transparent as possible with my manager. Some days I just need to have a chat and hear that it's going to be okay and that I'm doing fine. So, I simply pick up the phone, call my manager and just get a sense check. I let her know how my day is actually going, we work together to realign my day and have a laugh in the process.
These are challenging times for everyone. It's a massive learning curve but what comforts me is knowing that my team has my back. We're in this together, we will get through it and we will come out stronger on the other side. #Brightertogether