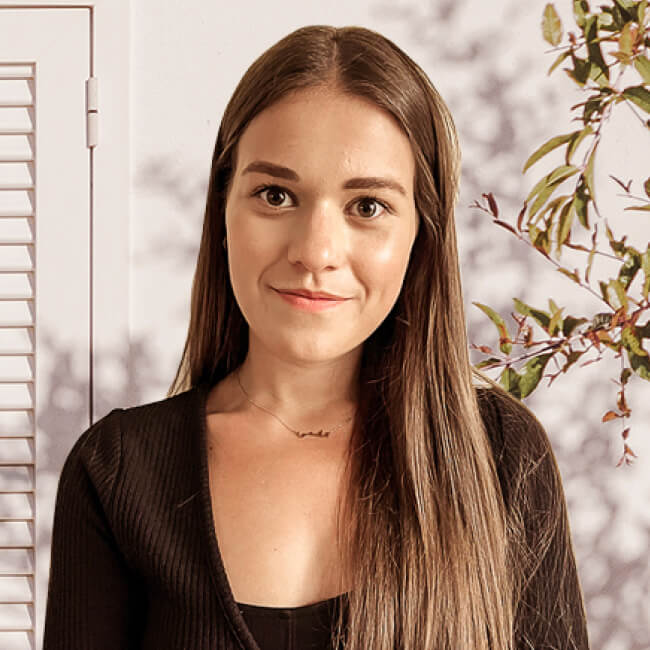 Careers
Making the switch from FMCG to the energy sector
For Eleanor Hashemi, Brighte offered an exciting new challenge and a chance to align her career with her personal interests.
I joined Brighte in August 2021 as the Senior Continuous Improvement Analyst. So far, I am absolutely loving it!  
I was looking for a new challenge within the tech start-up space when I came across Brighte, and I was blown away by the creative way they were disrupting the energy industry – we're making solar, batteries and home improvements more accessible to households across Australia.  
I was also delighted to see that Brighte has a significant number of women in leadership and board positions, which is very important to me. I have a long list of reasons why I love working at Brighte, and that's just the start of it.  
My career background 
After completing my masters at Nottingham University in 2017, I started working at HelloFresh within the operations team. I worked on multiple different functions (from supply chain, logistics and warehouse optimisation to customer operations and analytics), and in three different markets (the UK, AU and NZ).  
I really enjoyed my time at HelloFresh, as it was a fast-paced environment that focused on the sole mission of changing the way people eat forever. I gained a wealth of knowledge there. Working across multiple functions provided me with the business insight to run the CX function across ANZ, where I was responsible for delivering a seamless end-to-end customer experience through executing multiple change management programs.  
But after three and a half years, it was time for a new challenge. My favourite part of working in operational change management is being able to implement change in a business today, to plan for tomorrow. I knew I wanted my next challenge to be a tech startup that was about to undergo significant scaling up, because that would come with amazing operational complexity. I also knew I wanted to work in another disruptive industry that has a positive social and environmental impact. And that's how I found Brighte. 
My role at Brighte 
Brighte started with a desire to make paying for solar power easy and now the business is on a mission to make every house sustainable. Since 2015, Brighte has approved over $500 million in finance for over 60,000 Aussie households. This number will only continue to grow and as such, we need to ensure our business operation can support such growth.  
As a Senior Continuous Improvement Analyst, I am responsible for ensuring our operational functions are set up to perform efficiently and effectively as we continue to scale up. This involves significant large-scale change management programs as we look to automate and streamline a number of our existing operational processes. 
Our scalable internal feedback system 
The project I am most proud of so far is rolling out a scalable internal feedback system. This platform gives our operations team the ability to easily raise any operational suggestions that they feel will benefit either the ops team, our customers, or the wider business.  
The team can submit either system or process improvement suggestions that then feed through to the Continuous Improvement team. The Continuous Improvement team then scope the business requirements for such projects and quantify the potential impact these improvements will have on the business.  
Once this information is collected, the team is able to make data-driven decisions based on which projects should or shouldn't be prioritised. Not only does this feedback system increase the efficiency and effectiveness of raising improvement suggestions, it also increases the transparency of what projects are being raised and how each one is progressing.  
Why I love working at Brighte 
Brighte is extremely transparent about everything: its goals, its current performance, HR policies, promotions and new hires. I also love Brighte's inspiring vision and mission statement that aligns with my own personal interests and beliefs around sustainability and accessible finance.  
The company also goes above and beyond to make sure employees are recognised and heard. There are lots of internal surveys and monthly pulse checks by our P&C team, and they act on feedback right away. They also focus heavily on their employees' mental health and encouraging a healthy work/life balance. 
In the two months I've been here, I have been proud to be part of a team that is growing quickly and taking on large-scale, cross-functional projects that will drive operational improvements across the organisation. It is great to see a business that is so collaborative where different teams are happy to help and support each other to reach a common goal. This type of cross-functional working is imperative for the success of any change program, and the stakeholder engagement I have received so far has been unmatched. 
Keen to explore our latest career opportunities at Brighte? Head to our careers page!