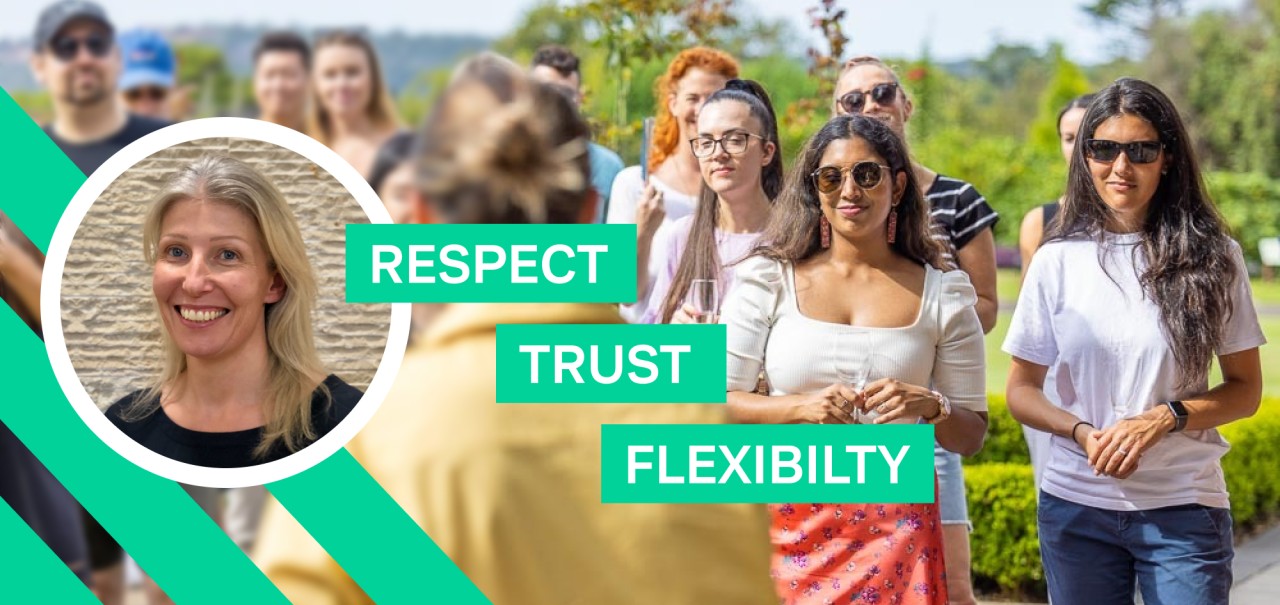 Careers
Building a culture of respect, trust and flexibility at Brighte
Brighte's Cheif of Staff Cathy Meade on her first few months on the job and building an environment where everyone feels respected, trusted and cared for.
By Cathy Meade
26 May 2022
I joined Brighte as Chief of Staff in March of this year and it's been an extremely enjoyable whirlwind ever since. My role, and the hat I wear, changes regularly throughout any given day. It's my role to be an advisor, confidante and strategic partner for our CEO and the leadership team. I'm here to surface blind spots or raise delicate issues that we need to address, I'm a truth teller but also a problem solver. My role is to increase Katherine's bandwidth, to challenge her and our leadership team to focus on the right things to deliver our mission as effectively as possible. I'm working to help build us into a high performing team worthy of leading the Brighte rocketship!
First days and beyond
Prior to joining Brighte I was with Atlassian for over 10 years, where I helped scale the company from 300 to over 7,000 employees. I was introduced to Brighte's CEO Katherine to offer advice on what a Chief of Staff might look like for her.
Although I wasn't looking for a new job, after my first chat with Katherine, I wondered if I might have found my next company. I felt inspired, and Brighte's mission just grabbed me. I couldn't pass up the chance to contribute to solving our climate crisis.
Today, I'm incredibly excited about helping shape the strategy to deliver on our mission of reducing CO2 emissions. I believe we have an opportunity to build a strong culture, where everyone comes together around this common purpose. Having shared values, clarity of direction and goals, and an understanding of how their works ties into our mission are key for high performing teams.
Brighte already has clear values, over the coming weeks we'll be working to ensure that our team are aligned around our mission and have clear strategic direction and goals. Next step will be to make sure that these things are embedded in how we work, through frequent communication and establishing the right level of frameworks and process to keep our goals front of mind and on track. 
Putting employee experience first
Providing an exceptional employee experience is critical to our future success.
I've worked in all sorts of organisations, from very traditional companies to scrappy start-ups to scaled unicorns, and the ones that have always stuck with me are the ones where I feel that I'm trusted, respected, cared for, have challenging work and genuine interactions every day. For me, a great employee experience means building an environment where people feel that they can be themselves at work, where they are doing work that they love, work that is meaningful, where they are challenged to give their best and ideally having an impact on the world.
Another important element of a great employee experience is a workplace that's flexible and allows employees to shape their work life around their home life, so they can be better at both. I'm very passionate about flexible work, it has allowed me to have more balance, to be a more present (and hopefully better) Mum but also to do great work. We're working to create an environment that allows people to thrive both at work and at home, I think that is the ultimate employee experience and would be a great outcome for our team and Brighte.
On a personal note, I can say I already feel cared for at Brighte. A big parcel arrived at my door recently and my children were delighted to find a beautiful hamper of gluten-free chocolates and biscuits. My four-year-old daughter is coeliac, and it's been a hard journey over the last six months trying to change her diet and also find things that she can have as treats. To see the thoughtfulness that went into sourcing this package not just for me, but for my family, was amazing.
My aim is to build an environment in which all of our people at Brighte feel respected, trusted and cared for while doing great work. That's the ticket to our success.
 If you're curious about joining us on our mission to reduce CO2 emissions and make every home sustainable, check out our latest role openings here.