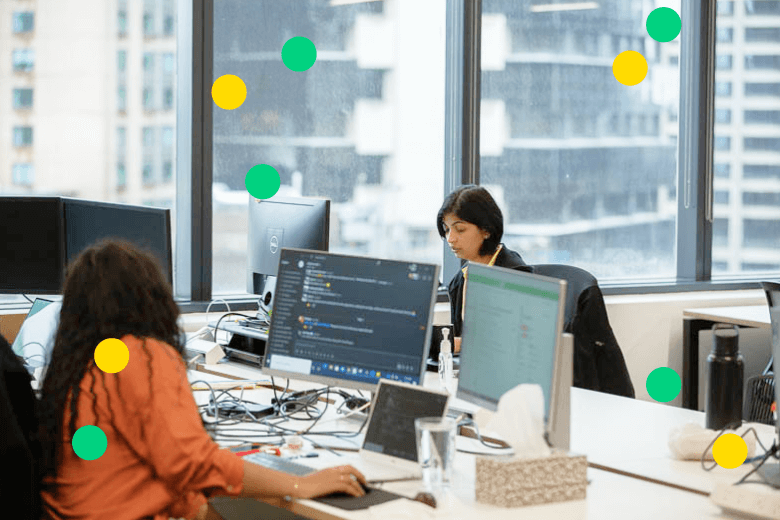 Careers
An inside look into working in tech at Brighte
We sat down with some of our product, engineering and energy team members to shed some light on their roles and what it's like to work at Brighte.
By Paul Greguric
15 September 2021
At Brighte, we're on a mission to make every Australian home sustainable, and we're doing it with understanding, compassion and empathy. In the face of all our recent national turmoil – from fires, to floods, to the COVID pandemic – our core focus has been on making our customers and team feel safe.
At heart, we're all about people at Brighte. We've grown from 30 to 170 employees in just a few short years, and through our combined passion and expertise, build great products that solve real problems.
So what's it like to be a part of it all? We sat down with some of our fantastic team members to shed some light on their roles here, our exciting growth as a company, and what it's like to work at Brighte.
Kate Archbold, Senior UX Designer
Hi Kate, tell us a bit about your role. What are your core responsibilities?
I'm a Senior UX Designer working with the Energy team. My role is all about people: their needs, wants and how they experience our products. My day-to-day usually consists of working with research to better understand our customers and working with product management and engineering to ensure we're building the right thing for their needs.
What kind of impact have you seen Brighte have on the industry, and community at large?
We operate in an industry where people want to feel secure and informed, to know that they've made the best choice in which company they trust with their solar energy. We're using our understanding and empathy at Brighte to build products that make customers feel like they're having a two-way conversation, I believe that's key to setting us apart.
Archana Rajput, Software Engineering Manager
Hi Archana, tell us a bit about your role. What are your core responsibilities?
I have recently returned to my passion for software as a Software Engineering Manager. I am responsible for building a new team of software engineers, implementing best-practice engineering and spearheading agile project management processes. I work a lot with product managers to plan sprints and I manage the software development cycle to meet scope, time, budget and quality.
What emerging technologies have you had the chance to work with at Brighte?
I have been very lucky to see the transformation of Brighte from a monolithic environment to micro-services and distributed architecture. We now use technologies like NodeJS and TypeScript, AWS Services and Container Technologies (Docker), CI/CD, Testing, considering Security and Compliance, React, Redux and Typescript and GraphQL.
I've had the opportunity to upskill myself in the AWS environment and Salesforce. Brighte has a dedicated budget for upskilling, so they're always very supportive in providing the resources we need.
What is the most interesting project you've worked on at Brighte so far?
Successfully leading a team in the integration of Salesforce within the business was very satisfying. With no internal skills in Salesforce, I offered to become an SME and upskilled through a Salesforce certification.
This was the first time the business worked in microservices architecture and it was a huge success, with all new services or features developed in a microservices architecture thereafter. It's been a huge win for the sales and marketing teams who get the best of both worlds (our internal data and features of Salesforce), and it's great for the engineering team who can now work with new technology.
What impact have you seen Brighte having on the industry and community at large?
It is very important for me to leave this world in a better place for my kid and the next generation. I believe we're taking the right steps at Brighte to contribute to achieving this goal.
I am proud to say we have minimal electronic machines on-premise, without compromising on security and compliance. We also make sure that we dispose of our electronic waste mindfully and via the right channels. 
Nick Hughes, Head of Engineering
Hi Nick, tell us a bit about your role. What are your core responsibilities?
As the Head of Engineering at Brighte, it's my job to build an engineering team that is able to create quality, maintainable software that delivers value to customers, quickly. The key pillars to achieving this goal include creating a working environment that enables Brighte to attract and retain the best technical talent; ensuring our technical strategy and architectural vision are clearly defined, understood and designed to enable scalability, maintainability and security; promoting technical practices that enable agility such as continuous delivery, automated testing and rapid feedback cycles; and ensuring everything that we do is in the service of creating the best possible experience for our customers.
What emerging technologies have you had the chance to work with at Brighte?
Too many to name them all! However, it's worth mentioning that we are in the process of adopting NodeJS as our core language for all major engineering projects as well as investing heavily in GraphQL and ORM.
Our philosophy around adopting new technology is embracing what will help us do better work, faster. We are constantly on the lookout for any new innovations that will serve this purpose.
Can you give us an example of an interesting challenge you're working around at the moment?
Brighte is in the process of rapidly scaling from two engineering teams to ten. The confluence of people and technical challenges in a highly dynamic and rapidly growing environment makes for interesting work when supported and surrounded by great people!
Ultimately, a high-performing engineering team will enable us to be the innovation engine driving Brighte's core purpose of making every home sustainable. I can think of no more important mission than enabling the move away from fossil fuels and I am proud to be part of a team that is working on that.
Swapnil Jain, Cyber Security Officer
Hi Swapnil, tell us about your role and the emerging technologies you've had a chance to work with at Brighte.
My primary role is managing the cyber security process for the entire organisation.
As the world shifted to a remote working model due to COVID-19, many new threats emerged in the cyber space. Ransomware attacks became a significant threat across the globe. To mitigate this, I initiated a project to deploy an endpoint threat detection and response system across Brighte. Using an advanced set of machine learning algorithms, we were able to stop advanced attacks at pre-execution.
It was certainly challenging but I love challenges, and challenges adore me!
Josh Devenny, Head of Product, Energy
Hi Josh, tell us a bit about your role. What are your core responsibilities?
I'm a Head of Product at Brighte. I'm responsible for the long-term product vision and the strategy and roadmap to getting there.
My job is about building an amazing product that solves problems for our customers and at the same time benefits the Brighte business. I work closely with almost every team across Brighte and represent the customer's voice in all of my conversations. It's fun, exciting, and fast-paced as we learn more and more from our customers, the market, and about our evolving business, every day.
Getting to play and create software that will enable Brighte to control Distributed Energy Resources (DER i.e. solar panels, batteries, electric water heaters, and so on) across thousands of households is incredibly interesting. It introduces some very gnarly engineering and data science problems.
What kind of impact do you feel your work here is having?
It's been an exhilarating ride learning all about the energy industry and the different problems out there, as well as the massive amount of opportunity in the industry.
The energy industry is going through the biggest shift since the industrial revolution. We need to eliminate our reliance on fossil fuels – Australia's energy production is still 68% coal. Brighte is building the future of energy and helping households transition to generating their own electricity, store it (which has never been possible before!), replace their petrol bill, and electrify everything.
In just a short few months the team has gone from nothing to being ready for launch. A true startup within a startup!
Rebecca Sampson, Technical Product Manager
Hi Rebecca, tell us a bit about your role. What are your core responsibilities?
As a Product Manager for the newly-formed 'Internal Product' team, my focus is on the internal systems we use at Brighte. Our team is responsible for solving growth challenges, streamlining processes and improving the UX of our internal software platforms. We use a mix of both proprietary and third-party platforms, with varying levels of integration. 
As we scale our operations at Brighte, our internal user experience becomes increasingly important – and the opportunities for improvements in this area are exciting! At all levels, we're driven to build Brighte into a company we're proud to work for.
Tell us about the most interesting project you've worked on at Brighte so far.
In recent years, Australia has faced fires, floods and of course the COVID-19 pandemic. At Brighte, we saw this as an opportunity to live our value of 'be human' and prove we're a good corporate citizen by implementing an automated hardship application assessment and tracking process. The project itself involved a blend of regulations, technical event-based triggers, reporting requirements and delicately word-smithed copy for customer-facing documents. Customer solutions, compliance and risk, legal, marketing, finance and complaints functions all contributed resources and ideas to bring the project to life, and really proved that we're 'Brighter together'.
What impact do you think this project has had?
On the whole, the finance industry doesn't have a very good track record of empathising with customers. Brighte definitely breaks the mould in that regard. 
I'm a big believer that 'if you can, you should'. I think that's what I like most about the hardship project: it acknowledges that asking for help is difficult, and if there's something we can do to make life easier for our customers, we will. It recognises that sometimes 'life happens' and demonstrates our commitment to making sustainable homes affordable for everyday Australians.
What emerging technologies are you working with?
We're currently implementing EventBridge, which will allow us to move to an event-based architecture that ensures the right data is available to the right systems, in real-time. Our team is also building integrations with all our platforms into our CDP, Segment, to provide the analytic capability needed to deliver insights and facilitate data-driven decisions. Additionally, we've just completed a proof-of-concept investigation into migrating to a cloud frontend for our existing loan management software (LMS), finPOWER.
Jeroen Boersma - Head of Research & Innovation
Hi Jeroen, tell us a bit about your role. What are your core responsibilities?
I'm Head of Research and Innovation. We look at consumer behaviour and technological trends to help define our product roadmap and strategy.
While we run a number of projects in close collaboration with our product managers and UX designers, we also help to build a data and insights-driven culture across the company. We also partner with academic, technological and research institutions that drive sustainability forward to see where we can help each other.
What do you find most exciting about the work you're doing?
Australia (and the world) is going through the biggest and most exciting change in the way we use energy in over a hundred years! And the shift needs to go even faster. Nearly every single home in Australia needs to change in one way or another, whether it's installing solar panels (as many have done), getting a battery, an electric vehicle or adopting technologies that make the use of energy smarter and more efficient in the home. 
In my most recent research project, we designed a number of different 'prototype' energy products and explored with consumers which ones would be the easiest to use and most likely to be adopted. It's our way of keeping the consumer at the centre of what we're building at each step of the product development cycle.
As our team grows, we keep looking into more emerging sustainable technologies to see what we can help to accelerate and therefore drive the energy transition even further.
Hanna Joy Alejandro, Agile Project Manager at Brighte
Hi Hanna, can you tell us a bit about your role and what you're responsible for at Brighte?
As an Agile Project Manager. I drive the day-to-day delivery of specific projects, making sure the team is on track and deep-diving into details to ensure clarity, in-scope and on-time delivery. I am also responsible for managing any external relationships at a delivery level and for pulling in subject matter experts where required. 
Do you feel like the work you're doing with us has a meaningful impact?
I started at Brighte helping on the finance side, and as we grew, the company expanded its mission and goals and ventured into the field of energy as well. It's both interesting and a bit daunting for me at the same time, as it's my first experience in the energy industry, but I'm increasing my understanding of it every day. Brighte isn't just another energy retailer – we are building the technology to help people further manage their household energy consumption and comfortably switch to natural resources, while giving them more power, flexibility and cost savings all at the same time.
Hussain Ali, Senior UI / UX Designer
Hi Hussain, can you tell us about your role and what your responsibilities are at Brighte?
I'm a senior UI/UX Designer and my main responsibility is to create delightful experiences for Brighte's customers, wherever they are interacting with us from in the digital world.
I can easily say this has been the most satisfying job of my career. Having worked mostly in non-finance industries (travel/health/fashion), I have tended to find financial services extremely restrictive in terms of creative freedoms. But we have a fantastic risk culture at Brighte, which is great, though it does mean I have to constantly strike the right balance between compliance and creating the best user experience! 
As one of Brighte's longest-standing employees, why do you think you've stayed so long?
One thing that keeps me glued to Brighte is believing in what Brighte stands for: making it affordable for every Australian to create a sustainable and comfortable home. Every day when I come to work, I have a sense of purpose and satisfaction in a way I never had with previous jobs. 
What emerging tech do you get to work with? And are there any projects you've worked on that stand out in particular?
In the past year we've added so many new tools. Of particular interest to me are tools like LaunchDarkly, Hotjar and User Testing. They all helped us better understand our customers and quickly iterate our products for faster time to market.
Project-wise, one of the key systems at Brighte is our Loan interface. Brighte provides seven different ways for a customer to apply for our 0% interest payment plan, depending on where they are in the journey of creating a sustainable home. 
All seven channels had different code bases (PHP, Android, iOS etc.), which meant making even a small change would mean making code changes to seven different locations. It really slowed us down. They also had different workflows. So, we came up with a new unified loan interface that cut application times in half. That has easily been my biggest and most satisfying project so far.
If you would like to join our team or are interested to learn more about a career at Brighte make sure you visit our Careers page for more information.