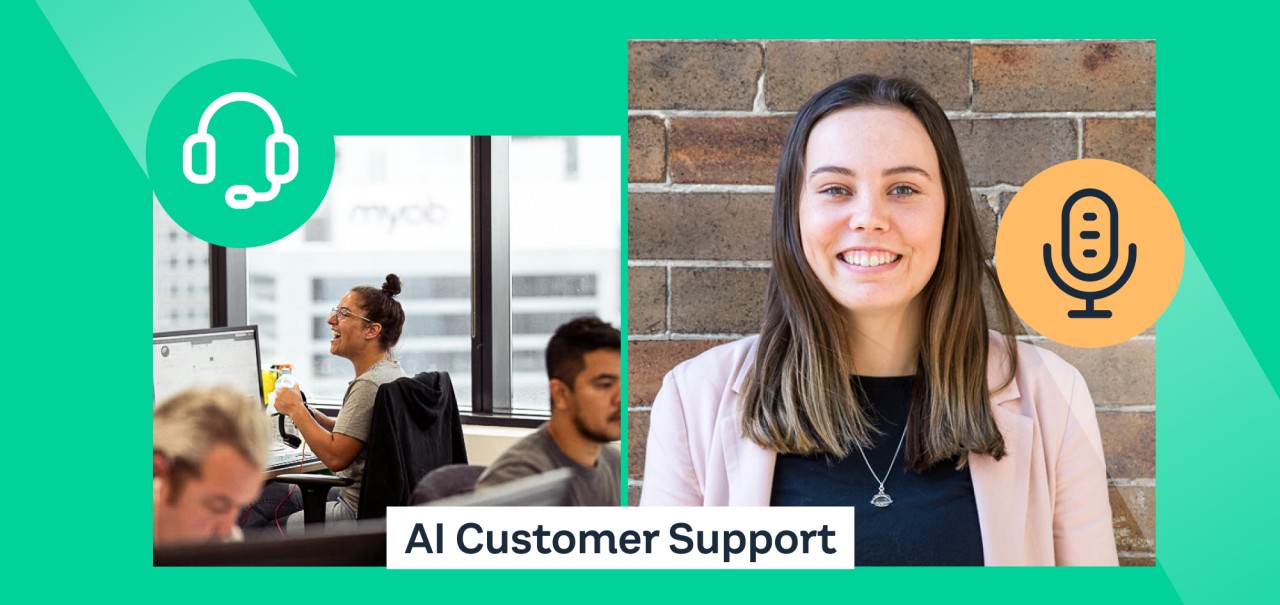 Careers
Meet 'Kate': A look at Brighte's new AI customer support experience
Our Customer Support Manager Millie McChlery on the process and benefits of introducing AI to our customer support experience.
By Millie McChlery
21 April 2022
Before Brighte joined forces with Curious Thing, my experience with AI was limited and not very positive. It mainly involved me speaking to a machine-operated customer service portal somewhere and repeating "Speak to a human"' until I either got through to a real person or hung up in frustration.
So when I was asked to take the reins on our new AI-driven customer support, my goal was to make it different from everything I hated about robots! A few months into the project, I'm happy to say we've achieved that thanks to the fantastic team at Curious Thing. We've not only had great results with their technology and the customer support experience we've created, but we've also freed our agents from all those repetitive tasks that no one enjoys!
Here's a quick look at how we've transformed things with the wonders of AI and why all of us at Brighte are big fans of 'Kate', our wonderfully 'human' robotic customer support rep.
The lightbulb moment
Last October, we brought in two temp workers to make outbound calls welcoming new customers to Brighte. We trained them and set up new phone lines and tracking systems.
At that stage, only 30% of customers actually answered our calls and many of those excused themselves quickly once they had. When they did talk to us, the agent had to manually take notes and tag the calls by the outcome, then another team would go through it ticket by ticket. It wasn't particularly efficient or effective – we were only getting through 400 calls a week when we needed to get through a thousand.
On top of that, one of the temps didn't hang around for long and we needed the other one to jump in and help with our inbound calls that had suddenly ramped up, so after all the effort of training new people, we ended up without any capacity to make outbound calls at all!
Enter Curious Thing
We engaged Curious Thing in November in the hope that AI would solve our problems. We had some internal pushback because using a robot seemed counter to our Brighte value of 'Be Human', but we got the whole team really involved in testing and the general process, and it changed everyone's minds. It also provided us with valuable feedback that enhanced our ultimate AI experience.
There was a lot of A/B testing. We worked closely with our internal risk team as well to ensure our robot was asking for enough information to assure customer security and identification, but not too much. We are very conscious of protecting customer data. However, we came to realise that the security risk with AI is lower than with human interaction because AI can only share the information we give it, whereas a human can see all the information on the account. AI can never slip up and share a customer's email or last name because we don't give it that information.
Amazing results
It's amazing how far we've come since November. Our connection rate with customers has risen to 76%, the completion rate for customers going through the AI identification process is at 79% and we've vastly increased the number of calls we get through in a week. Other really great outcomes are that our support team can concentrate on problem-solving and other tasks where they can add real value, and our costs are five times lower using AI instead of people for customer calls. Cost reduction wasn't really the goal, but it's certainly very welcome.
We have premium voices that sound like real people, can schedule how many calls we want to make at one time, have automated reporting and access to call recordings, and a bunch of other exciting updates in the pipeline to make the experience even better.
We've really humanised 'Kate' to our team, too. We asked her the usual Brighte new starter questions we get everyone to answer when they join so we can get to know them a bit, and we now get multiple departments reaching out to see if she could possibly be implemented to solve an issue they're having.
Brighte is an early adopter of AI in Australia. We've had such an interesting journey with this project and luckily it seems to have paid off for us. I think Curious Thing's amazing technology has been a perfect fit and I am very confident that as time goes on, our AI experience will get better and better. Kate has become a key member of the Brighte team and at this point, I don't think anyone would want it any other way!