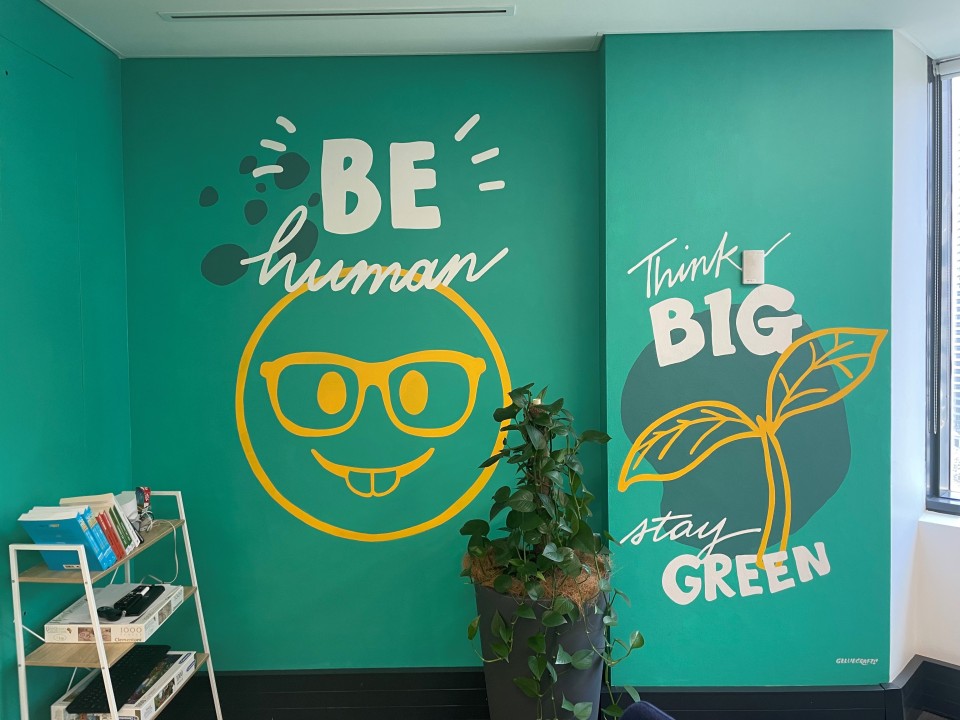 Careers
I thought I couldn't have it all, but I was wrong
Brighte's People Operations Lead Emma Stebbing on joining Brighte while pregnant and why she hasn't looked back since.
By Emma Stebbing
29 November 2021
I've had the good fortune of working for a lot of great businesses.
Just before I joined Brighte, I was at amaysim and I became deeply involved in their M&A process with Optus. I was there from due diligence right through to the other side of the fence, where I managed the change six months post-merger. It was intense but without a doubt one of the most interesting pieces of work I got to be involved in and bring my P&C flare to!
Once the dust had settled, I started to think about my own career development and what my next move might look like. And then I found out that life had quite a big one in store for me…becoming a mum!
I was eight weeks pregnant when I got a call from a friend of mine who had a fantastic role that she wanted to put me forward for at Brighte. I sheepishly told her I was pregnant so probably not a very desirable candidate. However, knowing the company and the hiring manager sourcing the role, she challenged me on that and put me forward anyway. Two weeks later I had an offer sitting in my inbox!
Will I, or won't I?
I left the conversation with Kirstin Hunter the Chief People, Legal & Risk Officer at Brighte) BUZZING with energy and excited about the prospect of joining this purpose-led organisation, with a fantastic boss, a winning team, and in a role that excited me. But then I remembered this new little priority cooking away and wondered whether I was being selfish to put my career first right now.
Those who know me well know that I solve problems like this by predicting all possible scenarios. It helps me to make decisions when I'm clear on the risks and fallouts ahead. So that's what I did!
Kirstin ended up being a key influence in my decision to move – her raw honesty and human approach throughout the process was a clear sign to me that this wasn't so much a decision of logic, but one of intuition. I wasn't going to get the absolute certainty I wanted, and at the end of the day, I was taking a gamble. But I just had to trust I was in the right place at the right time.
So I signed the contract.
I haven't looked back since
Admittedly, starting at a new company is a bit tough when it's done remotely and I soon felt the virtual onboarding pains – but I was prepared. I decided to fake the 'real-life' experience and set up a bunch of meet-and-greets with people both within and outside my team. This was a great move!
All those non-verbal cues, watercooler conversations and social activities that are typically part of your introduction to a business may not have been there in quite the same way, but this was a pretty good alternative. I was still able to chat with people over a (BYO) coffee, learn about the different roles and functions across the business, and gain insight into what is working well and what could improve the employee experience at Brighte.
I had done some digging and found out that Brighte's engagement score was sitting at an all-time high of 94%, so I was also really interested in understanding how the teams themselves describe the culture here. The words I got were 'supportive,' 'collaborative,' 'transparent,' 'customer-first' and 'Be human' (which is one of our five core values). This was really well aligned with my own first impressions of Brighte and I was happy to hear my intuition was right. I was able to then share these insights and have a fantastic discussion with our Founder & CEO, Katherine McConnell, who has a vested interest in people & culture and the feedback coming from our team.
The best part of it all?
I've spent the last few years focusing on building my career as an HR Leader squeezing in as many learning and development opportunities as possible because I was sure there would come a time when starting a family would disadvantage me professionally.
Well, the joke is on me, because that could not be further from the truth at Brighte. The company hired me knowing I would only be able to work for a short period initially, and not only that, I was eligible for the company's parental leave policy of six months paid leave once completing my probation.
Considering I am not eligible for government-funded parental leave, you can imagine how welcome this is. I somehow get to have it all – a stimulating and fulfilling role at a company that does good for Australia every day, and a comfortable transition to life as a mum without a financial strain on my family.
Brighte is in an ultra-exciting growth phase at the moment, which makes for a fast-paced, change-filled and vibrant working environment. There's endless opportunity to build exceptional experiences and improve your craft in this business. As People Operations Lead, I get to work across a number of great projects that will better serve our leaders and employees. When I combine that with everything else about working here, I really couldn't ask for more!