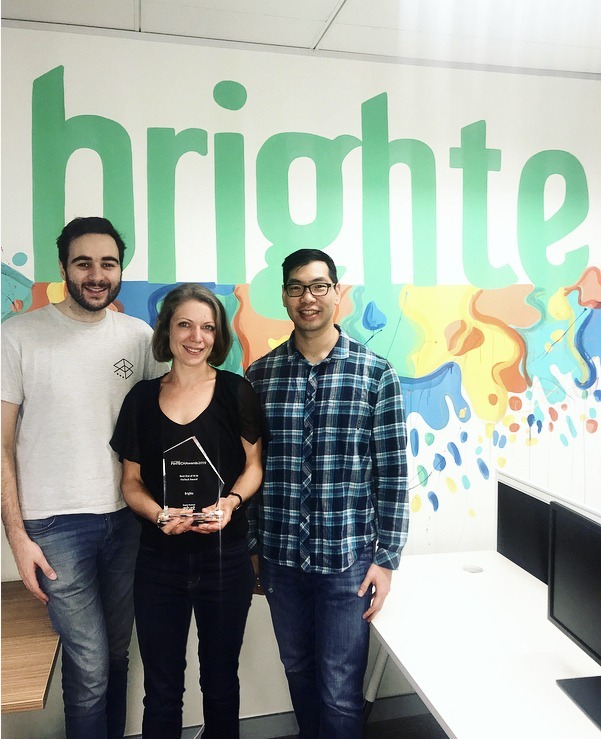 Careers
Pioneering the use of Artificial Intelligence in Fintech by Ben Yi, Lead Data Scientist at Brighte
Here at Brighte, we're proud to have been recognised for our work in this space, winning "Best Use of AI in Fintech" at the Australian Fintech Awards.
By Carly Nichols
05 March 2020
AI is fast revolutionising the way problems are solved around the world. Here at Brighte, we're proud to have been recognised for our work in this space, winning "Best Use of AI in Fintech" at the Australian Fintech Awards. What makes us more excited, though, is the possibility of delivering a truly first-class experience for both our customers and vendors (the network of solar and home improvements businesses delivering Brighte's payment solutions to them), through AI.
Sitting silently behind the core business functions, our AI engines continuously elevate our customer experience, make our growth more scalable, optimise business outcomes and protect us against risks and fraud. They are powerful, finely tuned algorithms which are invisible to the outside (good AI needs to be invisible), but help our organisation to be smarter and more efficient. 
But how does AI revolutionise a payments business? What is the new benchmark for efficiency, customer insights and credit decisioning for a business like ours?
Our approach has always been to put the end-user at the heart of what we do, and collaborate cross-functionally to elevate the user experience beyond what is 'expected' for a payments company. Taking this approach, the data scientists in my team tackled a core business problem: how to deliver a seamless, on-the-spot decision for those 'hard to decide' applications, where a simple 'approval' or 'decline' aren't immediately obvious?  While Brighte has made huge leaps in delivering this experience in most cases, we wanted to reduce the number of 'grey-area' applications where a referral process may slow down the decision and leave the customers hanging (albeit only for a few minutes).
Introducing MeL. MeL is our machine learning system which has successfully tackled this issue for us. MeL learns from prior human decisions for those 'hard to decide' credit applications that could not be handled by traditional scorecards. It generates a probability score of approval, which is used to assess applications. The system accurately assesses the individual customer data that is inputted – cutting down decision time down to seconds. That's how Brighte creates a seamless, fast experience for the vendors and their customer out in market – even for the trickier cases.
MeL sits efficiently behind the engine room that is our product and credit functions, and has had a huge impact on business objectives. As Adam Barnes, Head of Product, explains, "Brighte's AI 'MeL' helps us increase the number of finance applications which can be approved on the spot, allowing our vendors to close more sales fast, and at the point of sale."
It's also allowing the credit team to operate more efficiently than ever before – critical for a function which has already handled over $300M in applications, a number which will fast-track towards the $1B mark in coming years.  "MeL provides sound risk decisions based on lending behaviours and patterns which results in efficiency gains and faster turnaround times for our team", according to Mary Manfredas, Head of Credit.
In developing our AI capabilities, our data scientists have also developed a churn predictor system – a model which delivers real-time intelligence to the sales function, helping them to succeed. The system was developed to deliver data on our vendors (the network of businesses delivering Britghe's payment solutions to customers), in a systematic, real-time way that just wouldn't be possible using past methods of human monitoring and analysis.
Introducing Cassandra. In Greek mythology, Cassandra is a woman who forewarns bad things before they happen. At Brighte, Cassandra alerts our sales team before a vendor leaves Brighte, so the sales team can take actions to prevent churn. Based on each vendor's historical deal pattern with Brighte, our data scientists are able to predict the range of time in which we are likely to receive a new application from a particular vendor. When an extended period of time has lapsed without receiving any activities from the vendor, our sales team can proactively reach out to the vendor to provide reminders, deal support or training before vendor stops using Brighte. The time period is specific to each vendor so our sales reps are not inundated with alerts or miss important warning signs.
Thibault, Brighte's Head of Sales explains, "With a fast-growing customer base it's becoming very hard to prioritise and best use your team resources. Simply looking for the inactive vendors when they have become inactive is not enough and often too late in the piece! Cassandra assists AM and BDM's in organising their time prioritising their daily and weekly calls. It will provide triggers for our marketing automation to prompt and direct vendors towards the most appropriate help and support from Brighte."
Across Brighte, we now operate at a new level of efficiency, accuracy and intelligence, thanks to AI. The power is felt by every function in our business, making us sharper and more fleet-of-foot as we grow our business. Most importantly, it's felt by our vendors and customers as they experience what it's like to deal with a future-facing payments business.