Principal Software Engineer
Full Time, Permanent — Sydney or Melbourne
Brighter Together
Brighte is on a mission to make every home sustainable.
By offering financial solutions to homeowners, we're making renewable energy and home improvements more accessible to the everyday Aussie.
Between Nov 2016 and Feb 2022, Brighte has facilitated the installation of solar systems for over 80,000 households. These installations could generate 34+ Gigawatt-hours of clean energy - enough to prevent the emission of over 25 million metric tonnes of CO2!
Awarded Outstanding Fintech Leader of the Year (Finnies 2021), our Founder and CEO, Katherine McConnell, is a passionate and humble leader who has a human first approach to business.
We value different perspectives, skills and backgrounds and have been recognised for our strength in creating a diverse and inclusive workplace, winning Best Workplace Diversity (Finnies 2021).
Like what you've read so far? Read on for info on this role..
Snapshot of Brighte
Founded: 2015
Employees: <250
Location: Sydney, Australia
Team & Reporting: Head of Engineering & CTO.
Tech stack: React, React Native, Node, TypeScript, AWS
Funding
: Series C, Total funding Amount: $
306.5M
, IPO status: Private, Airtree Ventures, Mike Cannon-Brookes' Grok Investments, Kim Jackson and Scott Farquhar's Skip Capital as well as Qualgro Partners continue to help us scale our teams and products.
Noteworthy: Female Founder, recognised as one of Australia's leading fintech companies - ranked 6th fastest growing Technology Business in Australia in the Deloitte Fast 50/500 (2020).
Awards & Recognition: Top 10 StartUp, Finnies 2021– Outstanding Fintech Leader of the year, Katherine McConnel, Finnies 2021 - Best Workplace Diversity, Australian Growth Company Awards 2021 – Women in Leadership Award, Katherine McConnel, Environmental Finance Bond Awards 2021 – Green Bond of the Year.
As a Principal Engineer you will:
- Provide guidance to engineering leadership and to help build, scale, and maintain our engineering department. You'll have ownership over broad technical direction to ensure our products are evolving and sustainable for the long term. You'll collaborate with the technical leadership team to improve Brighte's engineering processes, systems, and architecture.
- As a driver of change you'll lead department wide conversations around technical strategy and architecture, suggesting improvements and ideas as you see them. And you'll enable our teams to build software that is architecturally consistent and of high quality, establishing best practices for the organisation.
- You're here to set an example to others around how to effectively visualise, explain and collaborate on complex technical matters. And to champion a practical everyday approach to ensuring a healthy level of security within all stages of development.
- It is key to embrace a culture of continuous improvement and ongoing incremental changes to ways of working. And to advocate for high quality, easily maintainable software with manageable levels of technical debt and help others to understand why these values enable rapid delivery.
- You'll get the opportunity participate in and lead improvements to code review processes, kick-off meetings, and coach others on their work for a deep understanding of scope, priorities and trade-offs.
- And last but not least, you'll champion a scalable and repeatable approach to testing that delivers a high standard of software released to production.
This job is for you if you:
- Bring a strong track record of practical problem solving skills with your passion for software development as a craft and ability to thrive in a fast paced, growing environment.
- Were a key member in the decision making process for a huge architectural move to help businesses scale their platforms.
- Have extensive experience designing, developing, shipping, and maintaining high quality software at scale.
- Can think critically about both system design and software engineering concepts and blend these perspectives pragmatically.
- Are pro-active, have a strong sense of ownership, and are able to work autonomously.
Year One Key Deliverables & Challenges:
- Have defined, planned and design the architectural roadmap for the product, both in the short term and long term.
- Effectively contributing to technical strategy and roadmaps.
- Fostered good engineering practices and processes.
- Elevate the engineering culture.
At Brighte, we have five key values:
🏐 Call the Ball - We take ownership, think with initiative and challenge the status quo.
💡 Brighter Together - We're collaborators who treat each other with respect and embrace our differences.
🏆 Deserve the Customer - We're obsessed with solving customer problems.
🤓 Be Human - We're authentic and not afraid to be ourselves.
🌱 Think Big, Stay Green - We're scaling but we haven't lost our start up hustle.
Named LinkedIn's #10 Top Australian Start Up (2021), we know we wouldn't be anywhere without our investors, who believe in our mission and the opportunities that lie ahead for a brighter future.
Airtree Ventures, Mike Cannon-Brookes' Grok Investments, Kim Jackson and Scott Farquhar's Skip Capital, and Qualgro Partners all continue to support Brighte in making this dream a reality!
If you want to join this mission-driven, inclusive, and highly collaborative team, click apply and upload your resume! All applicants will receive a response.
Apply now
or see all openings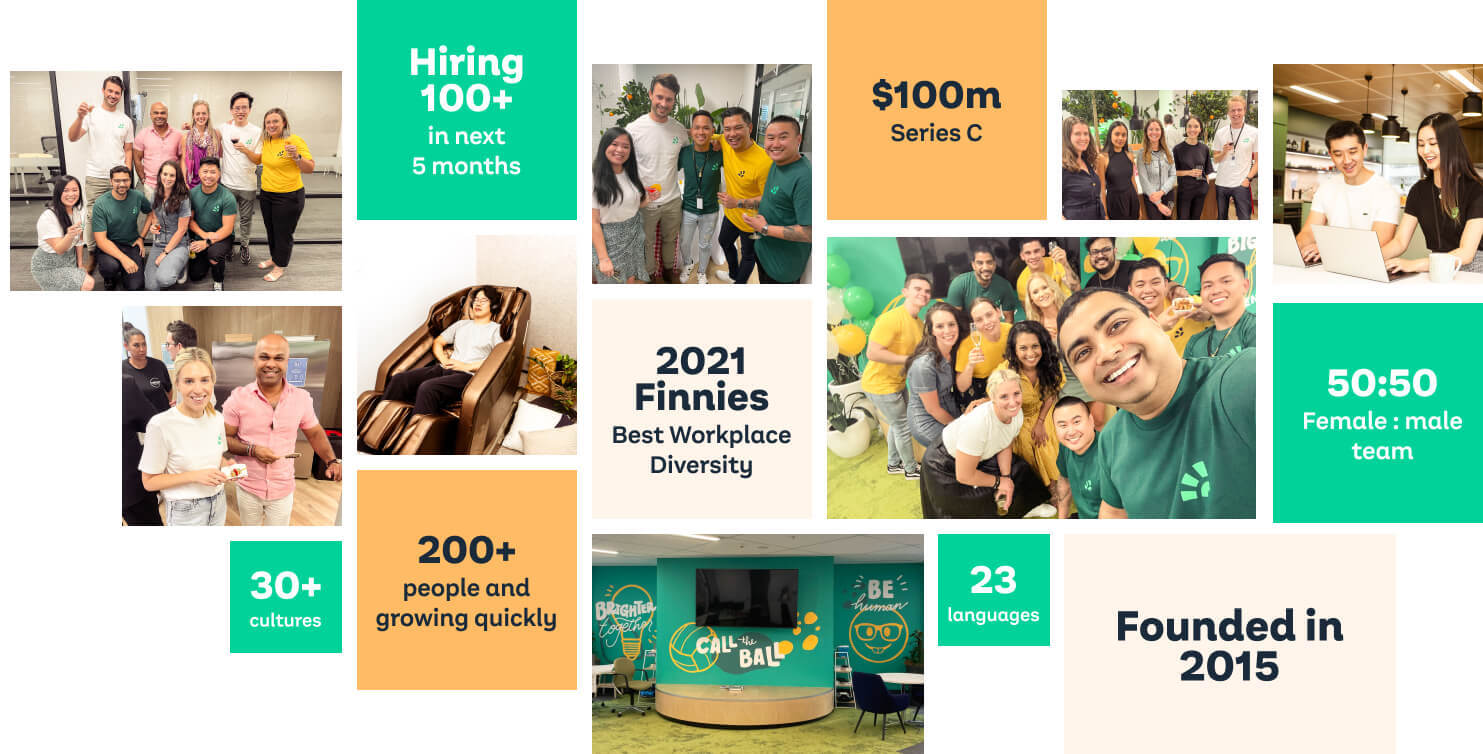 Glassdoor
Don't just take our word for it. Here's what people are saying on Glassdoor.
More about Brighte
Acknowledgement of Country
Brighte acknowledges Aboriginal and Torres Strait Islander peoples as the traditional custodians of our land - Australia. We pay our respect to them and their cultures and to the elders past, present and emerging. The Gadigal of the Eora Nation are the traditional custodians of the land on which Brighte's office stands.