Brighter Together
Our mission is the make sustainability affordable and accessible for everyone.
By offering financial solutions to homeowners, we're making renewable energy and home improvements more accessible to the everyday Aussie.
Between Nov 2016 and Feb 2022, Brighte has facilitated the installation of solar systems for over 110,000 households. Currently we have 1700 GWh generated by our customers each year which is saving 1 million + metric tons on C02 emissions per year!
Our founder and CEO, Katherine McConnell, has been awarded Telstra Business Woman of the year in 2020 as well as winning the Sustainability Crusader award at B&T's 2023 Women Leading Tech Awards. She is a passionate and humble leader who has a human first approach to business. As a business we have been awarded AFR Sustainability Leader in the Banking and Finance category and won the inaugural Sustainability Award at the Affies!
We value different perspectives, skills and backgrounds and have been recognised for our strength in creating a diverse and inclusive workplace, winning Best Workplace Diversity (Finnies 2021).
Like what you've read so far? Read on for info on this role!
Our Sales & Enterprise team is obsessed with building supportive, outcome driven, and empathetic relationships with our Vendors. As a Customer Success Manager you will be responsible for: investigating, resolving and providing high quality responses to escalated customer complaints within set timeframes, on behalf of Sales.
You provide our vendors with a positive experience during the complaints handling process and, even if the resolution provided does not accord to the customer's preferred resolution
What You'll Do
To act as a customer champion when investigating complaints received from all channels both internal and external to Brighte
Look to resolve complaints through policies and procedures with the aim of providing prompt and quality end to end resolution
Managing the adherence to the standard turnaround time, tracking and reporting all written complaints received for Management awareness
Work in partnership with stakeholders to drive the businesses in ensuring a consistent and effective complaint handling process is in place
Ensure effective governance and oversight of the 'customer concerns/complaints' across the key product and business forums
Effective partnership with Compliance to proactively identify and manage the regulatory risk for the business
Assist with implementing and actioning Vendor monitoring and warning procedures
Who You Are
You are empathetic and seek to understand where your Vendors are coming from.
Efficiency and productivity is something you are always striving for. If there is a gap in our process or a better way of doing things you are happy to "Call the ball" and make those changes.
Strong analytical and problem solving skills and the ability to express complex responses in a logical and easy to understand way
Ability to influence others and excellent stakeholder management skills
Ability to work with ambiguity and to deliver results under pressure
Have excellent critical-thinking, communication (written and oral) and interpersonal skills to be able to evaluate and suggest solutions and manage client and business expectations
Place the customer at the centre of all actions
Strive to excel and provide superior service and results for our customers and our shareholders.
Be meticulous in work and diligent in follow-ups to effective closures
Commercial, risk aware and outcomes focused
Understanding of relevant regulatory legislation under the Australian Securities and Investments Commission Act (2001) (ASIC Act), Competition and Consumer Act, The Anti-Money Laundering, and Counter-Terrorism Financing Act and Privacy Act;
Named LinkedIn's #10 Top Australian Start Up (2021), we know we wouldn't be anywhere without our investors, who believe in our mission and the opportunities that lie ahead for a brighter future.
Airtree Ventures, Mike Cannon-Brookes' Grok Investments, Kim Jackson and Scott Farquhar's Skip Capital, and Qualgro Partners all continue to support Brighte in making this dream a reality!
If you want to join this mission-driven, inclusive, and highly collaborative team, click apply and upload your resume! All applicants will receive a response.
Apply now
or see all openings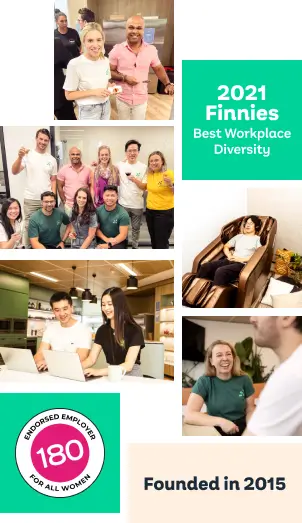 Latest news
Find out what the team has been up to - read more.
Glassdoor
Don't just take our word for it. Here's what people are saying on Glassdoor.
Acknowledgement of Country
Brighte acknowledges Aboriginal and Torres Strait Islander peoples as the traditional custodians of our land - Australia. We pay our respect to them and their cultures and to the elders past, present and emerging. The Gadigal of the Eora Nation are the traditional custodians of the land on which Brighte's office stands.