Manage your cost of living with solar
Get solar through Brighte at no upfront cost and start saving on your energy bills.
Remove upfront costs with 0% interest finance

Start with a quick estimate for your household

Get obligation-free solar quotes from up to 3 experts
We're on a mission to make solar affordable for everyone
We're all about solar, batteries and home electrification, aiming to make sustainable homes accessible for all Australians.
We've helped over 80,000 households finance their switch to solar, saving them over $1000 a year on electricity on average*.
We partner with over 2,100 local installers and connect homeowners with trusted tradies in their area.
*Yes, really - according to the Deloitte Access Economics - Brighte Consumer and Vendor Study of 2019.
How it works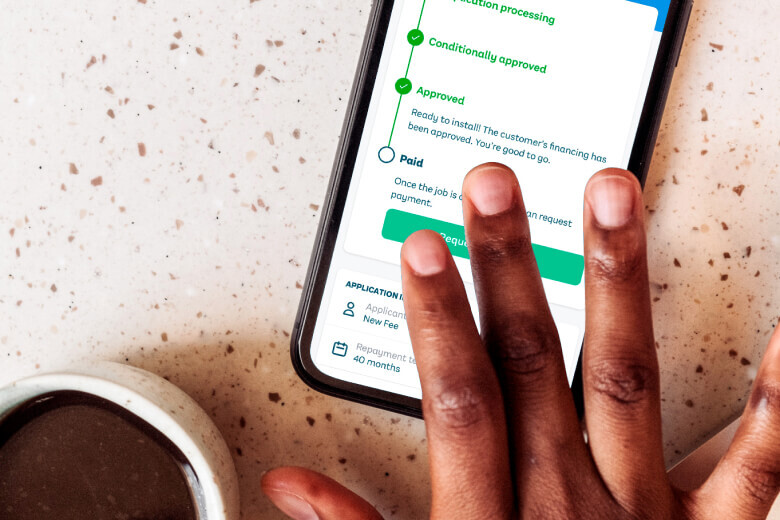 1. Get a price estimate

Start by entering your postcode and the number of people in your household to see a personalised size and price estimate.

2. Request quotes

After that, enter your details to receive no-obligation quotes from up to 3 local solar installers.

3. Lock in a date

Once you're happy with the quote, your chosen installer will get your finances sorted through Brighte and lock in the installation.

4. Start saving

Pay Brighte back in easy fortnightly instalments and you could enjoy lower electricity bills and clean solar energy.
Find a system size, price estimate and local installers - all in one place.
A network of reliable local installers
We're partnered with more than 2,100 tradespeople, solar installers and battery experts who specialise in the installation of sustainable home improvements.
All Brighte installers are accredited, trained and adhere to our partner code of conduct which is designed to protect consumers.
Why finance with Brighte?
Without solar
100% of your spend is on energy from the grid.
With solar finance
Solar offsets your bill. Any savings can go towards your payment plan.
Remove the upfront cost
Installing a rooftop solar system can save you money on energy bills and reduce your carbon footprint, but the upfront costs can be a barrier. With Brighte's 0% interest payment plan, you can install solar without dipping into your savings and pay us back in manageable fortnightly repayments.
Bill savings can offset repayments
A typical household will recoup their initial solar investment in three to five years, according to the Australian Energy Foundation*. With a 0% interest plan, your repayments can be offset by the money you save on your electricity bills, so you can take advantage of bill savings as you pay off your investment.
This is a graphical representation of how a customer's energy spend could be transformed. Not based on customer data.
Powering a brighter future, today
With our affordable finance and network of over 2,100+ tradies, we're helping Aussie households to make the switch to solar, sooner.
As an early adopter of rooftop solar, our founder and CEO Katherine McConnell started Brighte in 2015 to help families like hers make the transition to solar sooner by making paying for solar easy.
932196
metrics tons of CO2e emissions prevented each year
2111 GWh
clean energy generated by our customers
100000
solar installations financed by Brighte
Get up to 3 free quotes from Brighte's reliable installer network
© 2022 Brighte Capital Pty Ltd (ABN 74 609 165 906) · Privacy policy · Site terms
Australian Credit License Number 508217. All applications are subject to Brighte's credit approval criteria. Fees, Terms and Conditions apply.